{"id":7663411626182,"title":"Samsung Galaxy A53 5G 8GB 256GB Dual SIM","handle":"samsung-galaxy-a53-5g-8gb-256gb-dual-sim","description":"\u003ch1\u003e\u003cspan style=\"text-decoration: underline;\" data-mce-style=\"text-decoration: underline;\"\u003e\u003cstrong\u003e1 Year AXIOM \/ SAMSUNG Warranty\u003c\/strong\u003e\u003c\/span\u003e\u003c\/h1\u003e\n\u003ch2\u003e\u003cspan style=\"text-decoration: underline;\" data-mce-style=\"text-decoration: underline;\"\u003e\u003cstrong\u003eTRA Approved\u003c\/strong\u003e\u003c\/span\u003e\u003c\/h2\u003e\n\u003ch1\u003e\u003cspan style=\"text-decoration: underline;\" data-mce-style=\"text-decoration: underline;\"\u003e\u003cstrong\u003eNext Day Delivery\u003c\/strong\u003e\u003c\/span\u003e\u003c\/h1\u003e\n\u003cdiv class=\"feature-benefit feature-beneift--padding-top-normal feature-beneift--padding-bottom-normal bg-black\"\u003e\n\u003cdiv class=\"feature-benefit__text-wrap\"\u003e\n\u003cdiv class=\"feature-benefit__text\"\u003e\n\u003cdiv class=\"feature-benefit feature-beneift--padding-top-normal feature-beneift--padding-bottom-normal bg-white\"\u003e\n\u003cdiv class=\"feature-benefit__text-wrap\"\u003e\n\u003cdiv class=\"feature-benefit__text\"\u003e\n\u003ch2 class=\"feature-benefit__title contrast-target\" data-font-size-mo=\"30\" data-font-size-pc=\"48\"\u003e\u003cspan style=\"text-decoration: underline;\" data-mce-style=\"text-decoration: underline;\"\u003e\u003cstrong\u003eOS\u003c\/strong\u003e\u003c\/span\u003e\u003c\/h2\u003e\n\u003c\/div\u003e\n\u003c\/div\u003e\n\u003c\/div\u003e\n\u003cp\u003e\u003cspan\u003eAndroid\u003c\/span\u003e\u003c\/p\u003e\n\u003cp\u003e\u003cspan style=\"text-decoration: underline;\" data-mce-style=\"text-decoration: underline;\"\u003e\u003cstrong\u003eDisplay\u003c\/strong\u003e\u003c\/span\u003e\u003cbr\u003e\u003cspan\u003e6.5-inch 2400 x 1080 FHD+, Super AMOLED\u003c\/span\u003e\u003c\/p\u003e\n\u003cp\u003e\u003cspan\u003eInfinity-O Display\u003c\/span\u003e\u003c\/p\u003e\n\u003cp\u003e\u003cspan style=\"text-decoration: underline;\" data-mce-style=\"text-decoration: underline;\"\u003e\u003cstrong\u003eDimension\u003c\/strong\u003e \u003c\/span\u003e\u003cbr\u003e\u003cspan\u003e159.6 x 74.8 x 8.1 mm \/ 189 gm\u003c\/span\u003e\u003c\/p\u003e\n\u003cp\u003e\u003cspan style=\"text-decoration: underline;\" data-mce-style=\"text-decoration: underline;\"\u003e\u003cstrong\u003eCamera\u003c\/strong\u003e\u003c\/span\u003e\u003cbr\u003e\u003cspan style=\"text-decoration: underline;\" data-mce-style=\"text-decoration: underline;\"\u003eRear:\u003c\/span\u003e\u003c\/p\u003e\n\u003cp\u003e\u003cstrong class=\"spec-highlight__title\"\u003e\u003c\/strong\u003eResolution (Multiple)\u003cstrong class=\"spec-highlight__title\"\u003e \u003c\/strong\u003e\u003cspan class=\"spec-highlight__value\"\u003e64.0 MP + 12.0 MP + 5.0 MP \u003cspan data-mce-fragment=\"1\"\u003e+ 5.0 MP\u003c\/span\u003e\u003c\/span\u003e\u003c\/p\u003e\n\u003cp\u003eRear Camera - F Number (Multiple)\u003cstrong class=\"spec-highlight__title\"\u003e \u003c\/strong\u003e\u003cspan class=\"spec-highlight__value\"\u003eF1.8 , F2.2 , F2.4\u003cspan data-mce-fragment=\"1\"\u003e , F2.4\u003c\/span\u003e\u003c\/span\u003e\u003c\/p\u003e\n\u003cp\u003eMain Camera - Auto Focus\u003cstrong class=\"spec-highlight__title\"\u003e \u003c\/strong\u003e\u003cspan class=\"spec-highlight__value\"\u003eYes\u003c\/span\u003e\u003c\/p\u003e\n\u003cp\u003eRear Camera - OIS - Yes\u003c\/p\u003e\n\u003cp\u003eRear Camera Zoom\u003cstrong class=\"spec-highlight__title\"\u003e - \u003c\/strong\u003e\u003cspan class=\"spec-highlight__value\"\u003eDigital Zoom up to 10x\u003c\/span\u003e\u003c\/p\u003e\n\u003cp\u003e\u003cspan class=\"spec-highlight__value\"\u003e\u003cspan data-mce-fragment=\"1\"\u003e\u003cspan style=\"text-decoration: underline;\" data-mce-style=\"text-decoration: underline;\"\u003eFront\u003c\/span\u003e:\u003c\/span\u003e\u003c\/span\u003e\u003c\/p\u003e\n\u003cp\u003eFront Camera - Resolution - \u003cspan class=\"spec-highlight__value\"\u003e32.0 MP\u003c\/span\u003e\u003c\/p\u003e\n\u003cp\u003eFront Camera - F Number - \u003cspan class=\"spec-highlight__value\"\u003eF2.2\u003c\/span\u003e\u003c\/p\u003e\n\u003cp\u003eFront Camera - Auto Focus - \u003cspan class=\"spec-highlight__value\"\u003eNo\u003c\/span\u003e\u003c\/p\u003e\n\u003cp\u003eFront Camera - OIS - \u003cspan class=\"spec-highlight__value\"\u003eNo\u003c\/span\u003e\u003c\/p\u003e\n\u003cp\u003eMain Camera - Flash - \u003cspan class=\"spec-highlight__value\"\u003eYes\u003c\/span\u003e\u003c\/p\u003e\n\u003cp\u003eFront Camera - Flash - \u003cspan class=\"spec-highlight__value\"\u003eNo\u003c\/span\u003e\u003c\/p\u003e\n\u003cp\u003eVideo Recording Resolution - \u003cspan class=\"spec-highlight__value\"\u003eUHD 4K (3840 x 2160)@30fps\u003c\/span\u003e\u003c\/p\u003e\n\u003cp\u003eSlow Motion - \u003cspan class=\"spec-highlight__value\"\u003e240fps @HD\u003c\/span\u003e\u003c\/p\u003e\n\u003cp\u003e\u003cspan style=\"text-decoration: underline;\" data-mce-style=\"text-decoration: underline;\"\u003e\u003cstrong\u003eAP\u003c\/strong\u003e\u003c\/span\u003e\u003cbr\u003e\u003cspan\u003eOcta Core 2.4GHz, 2GHz\u003c\/span\u003e\u003cbr\u003e\u003cspan style=\"text-decoration: underline;\" data-mce-style=\"text-decoration: underline;\"\u003e\u003cstrong\u003eMemory\u003c\/strong\u003e\u003c\/span\u003e\u003cbr\u003e\u003cspan\u003e8GB RAM , 256GB Internal Storage, External memory - MicroSD (Up to 1TB)\u003c\/span\u003e\u003c\/p\u003e\n\u003cp\u003e\u003cspan style=\"text-decoration: underline;\" data-mce-style=\"text-decoration: underline;\"\u003e\u003cstrong\u003eNetwork\u003c\/strong\u003e\u003c\/span\u003e\u003c\/p\u003e\n\u003cp\u003e5G, 4G, WiFi\u003cbr\u003e\u003cspan style=\"text-decoration: underline;\" data-mce-style=\"text-decoration: underline;\"\u003e\u003cstrong\u003eSIM Card\u003c\/strong\u003e\u003c\/span\u003e\u003cbr\u003e\u003cspan\u003eDual SIM - Nano SIM (SIM 1 + Hybrid (SIM or MicroSD)\u003c\/span\u003e\u003cbr\u003e\u003cbr\u003e\u003cspan style=\"text-decoration: underline;\" data-mce-style=\"text-decoration: underline;\"\u003e\u003cstrong\u003eBattery\u003c\/strong\u003e\u003c\/span\u003e\u003cbr\u003e5,000 mAh, 2\u003cspan\u003e5W Fast Charging\u003c\/span\u003e\u003c\/p\u003e\n\u003cp\u003e\u003cspan style=\"text-decoration: underline;\" data-mce-style=\"text-decoration: underline;\"\u003e\u003cstrong\u003eBiometric Authentications\u003c\/strong\u003e\u003c\/span\u003e\u003c\/p\u003e\n\u003cp\u003e\u003cspan\u003eFingerprint sensor\u003c\/span\u003e\u003c\/p\u003e\n\u003ch2 data-font-size-pc=\"48\" data-font-size-mo=\"30\" class=\"feature-benefit__title contrast-target\"\u003eFast. To the point of innovation\u003c\/h2\u003e\n\u003cdiv class=\"feature-benefit__desc-wrap\"\u003e\n\u003cp data-font-size-pc=\"18\" data-font-size-mo=\"12\" class=\"feature-benefit__desc contrast-target\"\u003eWith Samsung Galaxy A53 5G, \u003cspan data-mce-fragment=\"1\"\u003eyour world becomes a Galaxy. Hyperfast connection means seamless streaming and sharing with your friends and family.\u003c\/span\u003e\u003c\/p\u003e\n\u003c\/div\u003e\n\u003c\/div\u003e\n\u003c\/div\u003e\n\u003cdiv class=\"feature-benefit__img-wrap\"\u003e\n\u003cdiv class=\"image image--dyn-height image--main-loaded\"\u003e\u003cimg src=\"https:\/\/images.samsung.com\/is\/image\/samsung\/p6pim\/ae\/feature\/151947011\/ae-feature-awesome-5g--awesome-speed-497027313?%24FB_TYPE_A_JPG%24\" data-comp-name=\"common.image\" alt=\"Galaxy A52s 5G seen from the front with 5G on the display. Colorful streaks of light surround it to represent fast 5G speeds.\" data-mobile-src=\"\/\/images.samsung.com\/is\/image\/samsung\/p6pim\/ae\/feature\/151947011\/ae-feature-awesome-5g--awesome-speed-497027314?$FB_TYPE_A_MO_JPG$\" data-desktop-src=\"\/\/images.samsung.com\/is\/image\/samsung\/p6pim\/ae\/feature\/151947011\/ae-feature-awesome-5g--awesome-speed-497027313?$FB_TYPE_A_JPG$\" class=\"image__main responsive-img image--loaded\" data-mce-src=\"https:\/\/images.samsung.com\/is\/image\/samsung\/p6pim\/ae\/feature\/151947011\/ae-feature-awesome-5g--awesome-speed-497027313?$FB_TYPE_A_JPG$\"\u003e\u003c\/div\u003e\n\u003c\/div\u003e\n\u003c\/div\u003e\n\u003cdiv class=\"feature-benefit feature-beneift--padding-top-normal feature-beneift--padding-bottom-normal bg-white\"\u003e\n\u003cdiv class=\"feature-benefit__text-wrap\"\u003e\n\u003cdiv class=\"feature-benefit__text\"\u003e\n\u003ch2 data-font-size-pc=\"48\" data-font-size-mo=\"30\" class=\"feature-benefit__title contrast-target\"\u003e\u003cbr\u003e\u003c\/h2\u003e\n\u003ch2 data-font-size-pc=\"48\" data-font-size-mo=\"30\" class=\"feature-benefit__title contrast-target\"\u003ePure processing power\u003c\/h2\u003e\n\u003cp\u003e\u003cspan\u003eTime to get to work. Powered with a 5nm Octa-core processor, your Samsung Galaxy A53 5G is built to handle heavy-duty multitasking. RAM Plus reads your usage patterns and provides extra virtual RAM for an additional boost.\u003c\/span\u003e\u003c\/p\u003e\n\u003cp\u003e\u003cspan\u003e\u003cimg alt=\"A metallic, square processor chip is shown with text on the surface that reads 5nm processor. Surrounding the chip are text that reads RAM Plus up to 6GB\/8GB virtual RAM, Processor 5nm Octa-core, Up to 6% faster performance core, Up to 33% faster graphic performance, Up to 43% faster neural processor.\" src=\"https:\/\/images.samsung.com\/is\/image\/samsung\/p6pim\/ae\/2202\/feature\/ae-feature-pure-processing-power-531467258?%24FB_TYPE_A_JPG%24\"\u003e\u003c\/span\u003e\u003c\/p\u003e\n\u003ch2 data-font-size-pc=\"48\" data-font-size-mo=\"30\" class=\"feature-benefit__title contrast-target\"\u003e\u003cbr\u003e\u003c\/h2\u003e\n\u003ch2 data-font-size-pc=\"48\" data-font-size-mo=\"30\" class=\"feature-benefit__title contrast-target\"\u003eHold on to your memories\u003c\/h2\u003e\n\u003cdiv class=\"feature-benefit__desc-wrap\"\u003e\n\u003cp data-font-size-pc=\"18\" data-font-size-mo=\"12\" class=\"feature-benefit__desc contrast-target\"\u003eIt's a whole lot with your Samsung Galaxy A53 5G's 256GB of internal storage plus support for a microSD card up to 1TB, you've got room for all your precious moments.\u003c\/p\u003e\n\u003cp data-font-size-pc=\"18\" data-font-size-mo=\"12\" class=\"feature-benefit__desc contrast-target\"\u003e\u003cimg alt=\"A metallic, square processor chip is shown with text on the surface that reads 5nm processor. Surrounding the chip are text that reads RAM Plus up to 6GB\/8GB virtual RAM, Processor 5nm Octa-core, Up to 6% faster performance core, Up to 33% faster graphic performance, Up to 43% faster neural processor.\" src=\"https:\/\/images.samsung.com\/is\/image\/samsung\/p6pim\/ae\/2202\/feature\/ae-feature-hold-on-to-your-memories-531467209?%24FB_TYPE_A_JPG%24\"\u003e\u003c\/p\u003e\n\u003c\/div\u003e\n\u003ch2 data-font-size-pc=\"48\" data-font-size-mo=\"30\" class=\"feature-benefit__title contrast-target\"\u003e\u003cbr\u003e\u003c\/h2\u003e\n\u003cdiv class=\"feature-benefit bg-white\"\u003e\n\u003cdiv class=\"feature-benefit__inner\"\u003e\n\u003cdiv data-swiper-option='{\"keepWrapper\":true,\"autoHeight\":true,\"pagination\":true,\"offTxtAccesibility\": true,\"componentEl\":\".feature-benefit\"}' class=\"feature-benefit__swiper swiper-container basic-swiper swiper-container-initialized swiper-container-horizontal swiper-container-autoheight\"\u003e\n\u003cdiv class=\"swiper-wrapper\"\u003e\n\u003cdiv data-media-action=\"click\" data-media-details=\"carousel:index:2\" data-media-group=\"interest\" aria-hidden=\"false\" aria-describedby=\"swiper2\" data-type-headline=\"Simplicity takes the crown\" class=\"swiper-slide swiper-slide-active\" an-la=\"carousel:index:2\" an-ac=\"carousel\" an-ca=\"indication\" an-tr=\"ftd01_feature benefit-product detail-image-index\"\u003e\n\u003cdiv class=\"feature-benefit__text-wrap\"\u003e\n\u003cdiv class=\"feature-benefit__text\"\u003e\n\u003ch2 data-font-size-pc=\"48\" data-font-size-mo=\"30\" class=\"feature-benefit__title contrast-target\"\u003eSimplicity takes the crown\u003c\/h2\u003e\n\u003cdiv class=\"feature-benefit__desc-wrap\"\u003e\n\u003cp data-font-size-pc=\"18\" data-font-size-mo=\"12\" class=\"feature-benefit__desc contrast-target\"\u003eThe Samsung Galaxy A53 5G is designed to stand out. With the Ambient Edge blending the camera with the body seamlessly, your Galaxy is entirely beautiful and fully functional with added battery capacity inside a slimmer, matte frame.\u003c\/p\u003e\n\u003cp data-font-size-pc=\"18\" data-font-size-mo=\"12\" class=\"feature-benefit__desc contrast-target\"\u003e\u003cimg alt=\"1. Galaxy A53 5G in Awesome Blue, seen from multiple angles to show the design: rear, front, side and close-up on the rear camera. Text saying Sweetest Color, Slim \u0026amp; Symmetric, Ambient EDGE.\" src=\"https:\/\/images.samsung.com\/is\/image\/samsung\/p6pim\/ae\/2202\/feature\/ae-feature-simplicity-takes-the-crown-531467236?%24FB_TYPE_A_JPG%24\"\u003e\u003c\/p\u003e\n\u003cp data-font-size-pc=\"18\" data-font-size-mo=\"12\" class=\"feature-benefit__desc contrast-target\"\u003e \u003cbr\u003e\u003c\/p\u003e\n\u003ch2 data-font-size-pc=\"48\" data-font-size-mo=\"30\" class=\"feature-benefit__title contrast-target\"\u003eA cinematic view of your world\u003c\/h2\u003e\n\u003cdiv class=\"feature-benefit__desc-wrap\"\u003e\n\u003cp data-font-size-pc=\"18\" data-font-size-mo=\"12\" class=\"feature-benefit__desc contrast-target\"\u003eFeast your eyes on vibrant details with the FHD+ Super AMOLED display of your Samsung Galaxy A53 5G. With the expansive 6.5-inch Infinity-O Display, enjoy vivid outdoor visibility up to 800 nits while reducing blue light with the Eye Comfort Shield.\u003c\/p\u003e\n\u003c\/div\u003e\n\u003cp data-font-size-pc=\"18\" data-font-size-mo=\"12\" class=\"feature-benefit__desc contrast-target\"\u003e\u003cimg src=\"https:\/\/images.samsung.com\/is\/image\/samsung\/p6pim\/ae\/2202\/feature\/ae-feature-a-cinematic-view-of-your-world-531467254?%24FB_TYPE_A_JPG%24\" alt=\"Galaxy A53 5G seen from the front against a beautiful landscape that overlaps onto the screen. It shows an expansive sky over water that reflects it with a thin horizon dissecting near the middle. In the center of the screen, a man is jumping in the air with all four limps outstretched and his reflection is shown on the water.\" data-mce-fragment=\"1\" data-mce-src=\"https:\/\/images.samsung.com\/is\/image\/samsung\/p6pim\/ae\/2202\/feature\/ae-feature-a-cinematic-view-of-your-world-531467254?$FB_TYPE_A_JPG$\"\u003e \u003cbr\u003e\u003c\/p\u003e\n\u003ch2 data-font-size-pc=\"48\" data-font-size-mo=\"30\" class=\"feature-benefit__title contrast-target\"\u003eAwesome screen, super smooth scrolling\u003c\/h2\u003e\n\u003cdiv class=\"feature-benefit__desc-wrap\"\u003e\n\u003cp data-font-size-pc=\"18\" data-font-size-mo=\"12\" class=\"feature-benefit__desc contrast-target\"\u003eWatch anything on your Samsung Galaxy A53 5G's 120Hz Super AMOLED display to see how silky smooth is now a viewing experience with less blur, more details, and vivid contrast.\u003c\/p\u003e\n\u003c\/div\u003e\n\u003cp data-font-size-pc=\"18\" data-font-size-mo=\"12\" class=\"feature-benefit__desc contrast-target\"\u003e\u003cimg src=\"https:\/\/images.samsung.com\/is\/image\/samsung\/p6pim\/ae\/2202\/feature\/ae-feature-awesome-screen--super-smooth-scrolling-531467274?%24FB_TYPE_A_JPG%24\" alt=\"Galaxy A53 5G is laid horizontally with a colorful image of green and yellow hues shown on the screen. In text, 120HZ is shown on the screen and SUPER AMOLED shown below.\" data-mce-fragment=\"1\" data-mce-src=\"https:\/\/images.samsung.com\/is\/image\/samsung\/p6pim\/ae\/2202\/feature\/ae-feature-awesome-screen--super-smooth-scrolling-531467274?$FB_TYPE_A_JPG$\"\u003e\u003cbr\u003e\u003c\/p\u003e\n\u003cp data-font-size-pc=\"18\" data-font-size-mo=\"12\" class=\"feature-benefit__desc contrast-target\"\u003e \u003c\/p\u003e\n\u003cdiv class=\"feature-benefit feature-beneift--padding-top-normal feature-beneift--padding-bottom-normal bg-white\"\u003e\n\u003cdiv class=\"feature-benefit__text-wrap\"\u003e\n\u003cdiv class=\"feature-benefit__text\"\u003e\n\u003ch2 data-font-size-pc=\"48\" data-font-size-mo=\"30\" class=\"feature-benefit__title contrast-target\"\u003eAwesome camera, always sharp and steady\u003c\/h2\u003e\n\u003cdiv class=\"feature-benefit__desc-wrap\"\u003e\n\u003cp data-font-size-pc=\"18\" data-font-size-mo=\"12\" class=\"feature-benefit__desc contrast-target\"\u003eThe multi-lens camera on the Samsung Galaxy A53 5G takes photos to the next level. Get crisper, clearer shots with the 64MP OIS Camera, expand your viewing angle with the Ultra Wide Camera, customize focus with the Depth Camera and get closer to details with the Macro Camera. \u003cimg src=\"https:\/\/images.samsung.com\/is\/image\/samsung\/p6pim\/ae\/2202\/feature\/ae-feature-awesome-camera--always-sharp-and-steady-531467268?%24FB_TYPE_A_JPG%24\" alt=\"Two Galaxy A53 5G models, both in Awesome Blue, show the rear side and front side of the device. On the left, the rear side of the device shows the 5MP F2.4 Macro Camera, 12MP F2.2 Ultra Wide Camera, 64MP F1.8 Main Camera and the 5MP F2.4 Depth Camera. On the right, the front side of the device shows the 32MP Front Camera and a picture displayed on the screen of a woman laughing.\" data-mce-fragment=\"1\" data-mce-src=\"https:\/\/images.samsung.com\/is\/image\/samsung\/p6pim\/ae\/2202\/feature\/ae-feature-awesome-camera--always-sharp-and-steady-531467268?$FB_TYPE_A_JPG$\"\u003e\u003c\/p\u003e\n\u003c\/div\u003e\n\u003c\/div\u003e\n\u003c\/div\u003e\n\u003c\/div\u003e\n\u003cp data-font-size-pc=\"18\" data-font-size-mo=\"12\" class=\"feature-benefit__desc contrast-target\"\u003e \u003cbr\u003e\u003c\/p\u003e\n\u003ch2 data-font-size-mo=\"30\" data-font-size-pc=\"48\" class=\"feature-benefit-full-bleed__title\"\u003eShoot stable video like a pro\u003c\/h2\u003e\n\u003cp data-font-size-mo=\"12\" data-font-size-pc=\"18\" class=\"feature-benefit-full-bleed__text\"\u003eCapture your world on-the-go. With OIS, your Samsung Galaxy Galaxy A53 5G records your videos more smoothly and captures finer details even in low light.\u003c\/p\u003e\n\u003cp data-font-size-pc=\"18\" data-font-size-mo=\"12\" class=\"feature-benefit__desc contrast-target\"\u003e\u003cimg src=\"https:\/\/images.samsung.com\/is\/image\/samsung\/p6pim\/ae\/2202\/feature\/ae-feature-shoot-stable-video-like-a-pro-531467230?%24FB_TYPE_K_JPG%24\" alt=\"A wide photo of a plate of a sliced sandwich is shown, dissected by a Galaxy A53 5G at the center. To the left of the smartphone, the image of the sandwich is bland and muted. To the right, the other half of the sandwich is shown much more bright, colorful and appetizing. On screen, the sandwich is also dissected by the Before and After effects of photo Remaster, showing the difference in image quality.\" data-mce-fragment=\"1\" data-mce-src=\"https:\/\/images.samsung.com\/is\/image\/samsung\/p6pim\/ae\/2202\/feature\/ae-feature-shoot-stable-video-like-a-pro-531467230?$FB_TYPE_K_JPG$\"\u003e\u003cbr\u003e\u003c\/p\u003e\n\u003cp data-font-size-pc=\"18\" data-font-size-mo=\"12\" class=\"feature-benefit__desc contrast-target\"\u003e \u003cbr\u003e\u003c\/p\u003e\n\u003ch2 data-font-size-pc=\"48\" data-font-size-mo=\"30\" class=\"feature-benefit__title contrast-target\"\u003eBetter shots with AI Image Enhancer\u003c\/h2\u003e\n\u003cdiv class=\"feature-benefit__desc-wrap\"\u003e\n\u003cp data-font-size-pc=\"18\" data-font-size-mo=\"12\" class=\"feature-benefit__desc contrast-target\"\u003ePhoto remaster's powerful AI automatically enhances your photos so you can upgrade your images right away.\u003c\/p\u003e\n\u003cp data-font-size-pc=\"18\" data-font-size-mo=\"12\" class=\"feature-benefit__desc contrast-target\"\u003e\u003cimg alt=\"A wide photo of a plate of a sliced sandwich is shown, dissected by a Galaxy A53 5G at the center. To the left of the smartphone, the image of the sandwich is bland and muted. To the right, the other half of the sandwich is shown much more bright, colorful and appetizing. On screen, the sandwich is also dissected by the Before and After effects of photo Remaster, showing the difference in image quality.\" src=\"https:\/\/images.samsung.com\/is\/image\/samsung\/p6pim\/ae\/2202\/feature\/ae-feature-better-shots-with-ai-image-enhancer-531467238?%24FB_TYPE_A_JPG%24\"\u003e\u003c\/p\u003e\n\u003c\/div\u003e\n\u003cp data-font-size-pc=\"18\" data-font-size-mo=\"12\" class=\"feature-benefit__desc contrast-target\"\u003e \u003cbr\u003e\u003c\/p\u003e\n\u003ch2 data-font-size-pc=\"48\" data-font-size-mo=\"30\" class=\"feature-benefit__title contrast-target\"\u003eFun times with Fun mode\u003c\/h2\u003e\n\u003cdiv class=\"feature-benefit__desc-wrap\"\u003e\n\u003cp data-font-size-pc=\"18\" data-font-size-mo=\"12\" class=\"feature-benefit__desc contrast-target\"\u003eCapture your funniest moments with new Snapchat Lenses updated regularly on Fun mode. Browse and try on your favorites, capture your best look and share them with your friends.\u003c\/p\u003e\n\u003cp data-font-size-pc=\"18\" data-font-size-mo=\"12\" class=\"feature-benefit__desc contrast-target\"\u003e\u003cimg alt=\"Numerous screens of the Galaxy A53 5G, with the one at the center being the largest and showing a woman using the Moving Neon Frame, shows several other people using Fun mode to try on different Snapchat Lenses that are applying various filters onto their faces and background. The other users are using filters that add the following effects to the user's facial features and background: Cowboy hats, black sunglasses and a black beard, comically enlarging one's mouth sideways, white and pink hearts in the background as well as a pink ribbon headband, pink bunny ears and sparkling lights in the background, and more.\" src=\"https:\/\/images.samsung.com\/is\/image\/samsung\/p6pim\/ae\/2202\/feature\/ae-feature-fun-times-with-fun-mode-531467264?%24FB_TYPE_A_JPG%24\"\u003e\u003c\/p\u003e\n\u003c\/div\u003e\n\u003cp data-font-size-pc=\"18\" data-font-size-mo=\"12\" class=\"feature-benefit__desc contrast-target\"\u003e \u003cbr\u003e\u003c\/p\u003e\n\u003ch2 data-font-size-mo=\"70\" data-font-size-pc=\"64\" id=\"tabTitleId_01\" class=\"feature-benefit-tab__title\"\u003eCapture your awesomeness\u003c\/h2\u003e\n\u003cp data-font-size-mo=\"28\" data-font-size-pc=\"18\" class=\"feature-benefit-tab__description\"\u003eWith bokeh effects and dual lenses for a depth camera powered by AI, you can capture the fine attributes that make every face unique. Blur out the background and focus on the details that brings the life out from inside the frame. \u003cimg src=\"https:\/\/images.samsung.com\/is\/image\/samsung\/p6pim\/ae\/2202\/feature\/ae-feature---531467240?%241204_n_JPG%24\" alt=\"1. A woman is standing in front of colorful houses. However, with the Portrait On icon above activated, the background is blurred and the shot highlights the woman.\" data-mce-fragment=\"1\" data-mce-src=\"https:\/\/images.samsung.com\/is\/image\/samsung\/p6pim\/ae\/2202\/feature\/ae-feature---531467240?$1204_n_JPG$\"\u003e\u003c\/p\u003e\n\u003cp data-font-size-pc=\"18\" data-font-size-mo=\"12\" class=\"feature-benefit__desc contrast-target\"\u003e \u003cbr\u003e\u003c\/p\u003e\n\u003ch2 data-font-size-pc=\"48\" data-font-size-mo=\"30\" class=\"feature-benefit__title contrast-target\"\u003eAwesome battery, lasts two days\u003c\/h2\u003e\n\u003cdiv class=\"feature-benefit__desc-wrap\"\u003e\n\u003cp data-font-size-pc=\"18\" data-font-size-mo=\"12\" class=\"feature-benefit__desc contrast-target\"\u003eA 5,000mAh (typical) battery for more time streaming, sharing, gaming and more. Quickly revive your Galaxy with up to 25W Super Fast Charging and enable adaptive power saving to enhance the overall battery performance.\u003c\/p\u003e\n\u003cp data-font-size-pc=\"18\" data-font-size-mo=\"12\" class=\"feature-benefit__desc contrast-target\"\u003e\u003cimg alt=\"A Galaxy A53 5G is in between two landscape photos. On the left, the photo shows a beautiful mountain landscape in bright daylight. On the right, the photo shows a man sitting in front of a campfire, pointing to the stars on a dark, night sky. Text in the center reads 2 Days Battery.\" src=\"https:\/\/images.samsung.com\/is\/image\/samsung\/p6pim\/ae\/2202\/feature\/ae-feature-awesome-battery--lasts-two-days--531467283?%24FB_TYPE_A_JPG%24\"\u003e\u003c\/p\u003e\n\u003c\/div\u003e\n\u003cp data-font-size-pc=\"18\" data-font-size-mo=\"12\" class=\"feature-benefit__desc contrast-target\"\u003e \u003cbr\u003e\u003c\/p\u003e\n\u003ch2 data-font-size-pc=\"48\" data-font-size-mo=\"30\" class=\"feature-benefit__title contrast-target\"\u003eNow spill, splash and splatter resistant\u003c\/h2\u003e\n\u003cdiv class=\"feature-benefit__desc-wrap\"\u003e\n\u003cp data-font-size-pc=\"18\" data-font-size-mo=\"12\" class=\"feature-benefit__desc contrast-target\"\u003eRated IP67 for water and dust-resistance, the Galaxy A53 5G stands up to 1.0 meter of freshwater for up to 30 minutes. With additional protection from Gorilla Glass 5, your device is now tougher and less prone to scratches.\u003c\/p\u003e\n\u003cp data-font-size-pc=\"18\" data-font-size-mo=\"12\" class=\"feature-benefit__desc contrast-target\"\u003e\u003cimg alt=\"Galaxy A53 5G in Awesome Blue, seen from the rear with water splashing around it\" src=\"https:\/\/images.samsung.com\/is\/image\/samsung\/p6pim\/ae\/2202\/feature\/ae-feature-now-spill--splash-and-splatter-resistant-531467270\"\u003e\u003c\/p\u003e\n\u003c\/div\u003e\n\u003cp data-font-size-pc=\"18\" data-font-size-mo=\"12\" class=\"feature-benefit__desc contrast-target\"\u003e \u003cbr\u003e\u003c\/p\u003e\n\u003ch2 data-font-size-pc=\"48\" data-font-size-mo=\"30\" class=\"feature-benefit__title contrast-target\"\u003eImmersive sound in the palm of your hand\u003c\/h2\u003e\n\u003cdiv class=\"feature-benefit__desc-wrap\"\u003e\n\u003cp data-font-size-pc=\"18\" data-font-size-mo=\"12\" class=\"feature-benefit__desc contrast-target\"\u003eA spatial experience no longer requires a studio. Immerse yourself in your favorite films, songs and videos with Dolby Atmos enriching each note with incredible detail and clarity.\u003c\/p\u003e\n\u003cp data-font-size-pc=\"18\" data-font-size-mo=\"12\" class=\"feature-benefit__desc contrast-target\"\u003e\u003cimg alt=\"Galaxy A53 5G is laid horizontally and shows sound coming from both ends of the device. On screen, a male artist wearing headphones is singing into a studio microphone in a recording session. The Dolby Atmos logo is shown below.\" src=\"https:\/\/images.samsung.com\/is\/image\/samsung\/p6pim\/ae\/2202\/feature\/ae-feature-immersive-sound-in-the-palm-of-your-hand-531467222?%24FB_TYPE_A_JPG%24\"\u003e\u003c\/p\u003e\n\u003c\/div\u003e\n\u003cp data-font-size-pc=\"18\" data-font-size-mo=\"12\" class=\"feature-benefit__desc contrast-target\"\u003e \u003cbr\u003e\u003c\/p\u003e\n\u003ch2 data-font-size-pc=\"48\" data-font-size-mo=\"30\" class=\"feature-benefit__title contrast-target\"\u003eGame Booster gives you the edge\u003c\/h2\u003e\n\u003cdiv class=\"feature-benefit__desc-wrap\"\u003e\n\u003cp data-font-size-pc=\"18\" data-font-size-mo=\"12\" class=\"feature-benefit__desc contrast-target\"\u003eGo for the win. Game Booster tracks your gaming patterns to optimize your device's battery life, temperature and memory, while blocking background activities and notifications so you won't lose focus.\u003c\/p\u003e\n\u003cp data-font-size-pc=\"18\" data-font-size-mo=\"12\" class=\"feature-benefit__desc contrast-target\"\u003e\u003cimg alt=\"Game Booster\" src=\"https:\/\/images.samsung.com\/is\/image\/samsung\/p6pim\/ae\/2202\/feature\/ae-feature-galaxy-a53-5g-a536-531623120?%24FB_TYPE_A_JPG%24\"\u003e\u003c\/p\u003e\n\u003c\/div\u003e\n\u003cp data-font-size-pc=\"18\" data-font-size-mo=\"12\" class=\"feature-benefit__desc contrast-target\"\u003e \u003cbr\u003e\u003c\/p\u003e\n\u003ch2 data-font-size-pc=\"48\" data-font-size-mo=\"30\" class=\"feature-benefit__title contrast-target\"\u003eProtect what matters to you\u003c\/h2\u003e\n\u003cdiv class=\"feature-benefit__desc-wrap\"\u003e\n\u003cp data-font-size-pc=\"18\" data-font-size-mo=\"12\" class=\"feature-benefit__desc contrast-target\"\u003eBuilt into the phone's hardware and software from the start, Samsung Knox protects your phone from the minute it's turned on. Offering multi-layered security, it defends your most sensitive information from malware and malicious threats.\u003c\/p\u003e\n\u003cp data-font-size-pc=\"18\" data-font-size-mo=\"12\" class=\"feature-benefit__desc contrast-target\"\u003e\u003cimg alt=\"Five layers in the shape of a smartphone is shown stacked on top of each other with space in between. On the very bottom, a black layer shows circuitry and a chip. The top layer shows the Knox logo.\" src=\"https:\/\/images.samsung.com\/is\/image\/samsung\/p6pim\/ae\/2202\/feature\/ae-feature-protect-what-matters-to-you-531467276\"\u003e\u003c\/p\u003e\n\u003c\/div\u003e\n\u003c\/div\u003e\n\u003c\/div\u003e\n\u003c\/div\u003e\n\u003c\/div\u003e\n\u003c\/div\u003e\n\u003c\/div\u003e\n\u003c\/div\u003e\n\u003c\/div\u003e\n\u003ch2 data-font-size-pc=\"48\" data-font-size-mo=\"30\" class=\"feature-benefit__title contrast-target\"\u003e\n\u003cspan style=\"text-decoration: underline;\" data-mce-style=\"text-decoration: underline;\"\u003e\u003cstrong\u003e\u003c\/strong\u003e\u003c\/span\u003e\u003cbr\u003e\n\u003c\/h2\u003e\n\u003ch2 data-font-size-pc=\"48\" data-font-size-mo=\"30\" class=\"feature-benefit__title contrast-target\"\u003eSimply touch to unlock\u003c\/h2\u003e\n\u003cdiv class=\"feature-benefit__desc-wrap\"\u003e\n\u003cp data-font-size-pc=\"18\" data-font-size-mo=\"12\" class=\"feature-benefit__desc contrast-target\"\u003eStep right in. With the built-in on-screen fingerprint sensor, you can instantly log in to your apps and websites without compromising on security.\u003c\/p\u003e\n\u003cp data-font-size-pc=\"18\" data-font-size-mo=\"12\" class=\"feature-benefit__desc contrast-target\"\u003e\u003cimg alt=\"Galaxy A53 5G seen from the front with nothing but the on-screen fingerprint sensor onscreen.\" src=\"https:\/\/images.samsung.com\/is\/image\/samsung\/p6pim\/ae\/2202\/feature\/ae-feature-simply-touch-to-unlock-531467266\"\u003e\u003c\/p\u003e\n\u003ch2 data-font-size-pc=\"48\" data-font-size-mo=\"30\" class=\"feature-benefit__title contrast-target\"\u003eYour privacy protected\u003c\/h2\u003e\n\u003cdiv class=\"feature-benefit__desc-wrap\"\u003e\n\u003cp data-font-size-pc=\"18\" data-font-size-mo=\"12\" class=\"feature-benefit__desc contrast-target\"\u003eKeep your personal photos, videos, files, apps and data safe inside Secure Folder with the defense-grade Samsung Knox security platform, which protects your information from any malicious attacks. Add your password or fingerprint so that only you can access your data.\u003c\/p\u003e\n\u003cp data-font-size-pc=\"18\" data-font-size-mo=\"12\" class=\"feature-benefit__desc contrast-target\"\u003e\u003cimg alt=\"Galaxy A53 5G seen from the front, displaying the apps inside Secure Folder, including Gallery, Contacts, My Files and more. Each app icon has a small Secure Folder icon attached at the bottom right. Above the smartphone is a larger Secure Folder icon.\" src=\"https:\/\/images.samsung.com\/is\/image\/samsung\/p6pim\/ae\/2202\/feature\/ae-feature-your-privacy-protected-531467234\"\u003e\u003c\/p\u003e\n\u003c\/div\u003e\n\u003cp data-font-size-pc=\"18\" data-font-size-mo=\"12\" class=\"feature-benefit__desc contrast-target\"\u003e \u003cbr\u003e\u003c\/p\u003e\n\u003ch2 data-font-size-pc=\"48\" data-font-size-mo=\"30\" class=\"feature-benefit__title contrast-target\"\u003eYour Galaxy. Your Way\u003c\/h2\u003e\n\u003cdiv class=\"feature-benefit__desc-wrap\"\u003e\n\u003cp data-font-size-pc=\"18\" data-font-size-mo=\"12\" class=\"feature-benefit__desc contrast-target\"\u003eOwn something truly yours. Customize your Galaxy with One UI 4 and give your phone an edgy look to match your vibes. Create a bespoke tool that assists your tasks seamlessly and makes your favorite features readily accessible.\u003c\/p\u003e\n\u003cp data-font-size-pc=\"18\" data-font-size-mo=\"12\" class=\"feature-benefit__desc contrast-target\"\u003e\u003cimg alt=\"Five different Galaxy A53 5G screens showing a customized set of colors and look using One UI 4. From left to right, the screens show: the Wallpaper and style menu on settings, a text message conversation with custom pink and burgundy colored text bubbles, a customized Home Screen, a customized Quick Settings menu, and a customized Stopwatch screen.\" src=\"https:\/\/images.samsung.com\/is\/image\/samsung\/p6pim\/ae\/2202\/feature\/ae-feature-your-galaxy--your-way-531467211?%24FB_TYPE_A_JPG%24\"\u003e\u003c\/p\u003e\n\u003ch2 data-font-size-pc=\"18\" data-font-size-mo=\"12\" class=\"feature-benefit__desc contrast-target\"\u003eConnected hear. Connected there\u003c\/h2\u003e\n\u003cdiv class=\"feature-benefit feature-beneift--padding-top-normal feature-beneift--padding-bottom-normal bg-white s-img-align-left s-text-align-mo-center\"\u003e\n\u003cdiv class=\"feature-benefit__text-wrap\"\u003e\n\u003cdiv class=\"feature-benefit__text\"\u003e\n\u003ch2 data-font-size-pc=\"48\" data-font-size-mo=\"30\" class=\"feature-benefit__title contrast-target\"\u003eEffortlessly attentive\u003c\/h2\u003e\n\u003cp data-font-size-pc=\"18\" data-font-size-mo=\"12\" class=\"feature-benefit__desc contrast-target\"\u003eBuds Auto Switching leads your ears to what you should be focusing on. When you're watching a movie on your tablet, an incoming call to your phone will be transferred seamlessly for you to pick up. Hang up and you're right back where you left off.\u003c\/p\u003e\n\u003cp data-font-size-pc=\"18\" data-font-size-mo=\"12\" class=\"feature-benefit__desc contrast-target\"\u003e\u003cspan\u003e*Auto Switch feature only available on Galaxy smartphones and tablets with One UI 3.1 or later. Certain devices and applications may not support Auto Switch.\u003c\/span\u003e\u003cbr\u003e\u003cspan\u003e**Galaxy devices must be logged in to the same Samsung Account to enable Auto Switch.\u003c\/span\u003e\u003cbr\u003e\u003cspan\u003e***Buds Pro and Galaxy Tab S7 sold separately\u003c\/span\u003e\u003c\/p\u003e\n\u003ch2 data-font-size-pc=\"18\" data-font-size-mo=\"12\" class=\"feature-benefit__desc contrast-target\"\u003e\n\u003cspan\u003e\u003cimg alt=\"Three products are lined up from left to right: Galaxy A53 5G, Buds2 with the case lid opened and a Galaxy tablet. An incoming call from Christina Adams is shown on the smartphone screen while the tablet shows scuba diving-related content being played. On the top of both screens of the smartphone and the tablet, a bubble has popped up to notify of the call and that the user could take the call with the Buds2.\" src=\"https:\/\/images.samsung.com\/is\/image\/samsung\/p6pim\/ae\/2202\/feature\/ae-feature-effortlessly-attentive-531467246\"\u003e\u003c\/span\u003eListen with your Buds Together\u003c\/h2\u003e\n\u003c\/div\u003e\n\u003c\/div\u003e\n\u003c\/div\u003e\n\u003cdiv class=\"feature-benefit__desc-wrap\"\u003e\n\u003cp data-font-size-pc=\"18\" data-font-size-mo=\"12\" class=\"feature-benefit__desc contrast-target\"\u003eTake over the sidewalk with your best friend. Buds Together gives you the simple yet unbeatable experience of listening to songs together on-the-go.\u003c\/p\u003e\n\u003cp data-font-size-pc=\"18\" data-font-size-mo=\"12\" class=\"feature-benefit__desc contrast-target\"\u003e\u003cspan\u003e*Buds Pro sold separately.\u003c\/span\u003e\u003c\/p\u003e\n\u003cp data-font-size-pc=\"18\" data-font-size-mo=\"12\" class=\"feature-benefit__desc contrast-target\"\u003e\u003cspan\u003e\u003cimg alt=\"Two female friends, both wearing Buds Pro, are lying down on the grass on a sunny day, blowing bubbles with bubble gum. A smartphone laid down nearby shows a song being played, illustrating that both friends are listening to the song together with their Buds products.\" src=\"https:\/\/images.samsung.com\/is\/image\/samsung\/p6pim\/ae\/2202\/feature\/ae-feature-listen-with-your-buds-together-531467260\"\u003e\u003c\/span\u003e\u003c\/p\u003e\n\u003c\/div\u003e\n\u003cp data-font-size-pc=\"18\" data-font-size-mo=\"12\" class=\"feature-benefit__desc contrast-target\"\u003e \u003cbr\u003e\u003c\/p\u003e\n\u003ch2 data-font-size-pc=\"48\" data-font-size-mo=\"30\" class=\"feature-benefit__title contrast-target\"\u003eYour apps on Galaxy A53 5G, now on PC\u003c\/h2\u003e\n\u003cdiv class=\"feature-benefit__desc-wrap\"\u003e\n\u003cp data-font-size-pc=\"18\" data-font-size-mo=\"12\" class=\"feature-benefit__desc contrast-target\"\u003eWith Link to Windows, access your phone messages, notifications and other mobile apps directly on your PC.\u003c\/p\u003e\n\u003cp data-font-size-pc=\"18\" data-font-size-mo=\"12\" class=\"feature-benefit__desc contrast-target\"\u003e\u003cimg alt=\"A Galaxy laptop and Galaxy smartphone are shown side by side. The laptop shows the Apps window, which displays all the apps downloaded on the smartphone. The Albums app is also opened and shows that the user could access the app just as he or she would on the smartphone. On the smartphone screen, the Home Screen is shown, displaying some of the apps that are also shown on the laptop screen.\" src=\"https:\/\/images.samsung.com\/is\/image\/samsung\/p6pim\/ae\/2202\/feature\/ae-feature-your-apps-on-galaxy-a53-5g--now-on-pc-531467287\"\u003e\u003c\/p\u003e\n\u003c\/div\u003e\n\u003cp data-font-size-pc=\"18\" data-font-size-mo=\"12\" class=\"feature-benefit__desc contrast-target\"\u003e \u003c\/p\u003e\n\u003c\/div\u003e\n\u003c\/div\u003e\n\u003c\/div\u003e\n\u003c\/div\u003e\n\u003c\/div\u003e","published_at":"2022-09-02T16:28:50+04:00","created_at":"2022-09-02T14:25:44+04:00","vendor":"SPAZA.ae","type":"Mobile","tags":["Brand_Samsung","Colour_Black","Colour_Green","Colour_Violet","Colour_White","Memory_256 GB","Network_5G","RAM_8 GB","Type_Smartphone"],"price":132500,"price_min":132500,"price_max":137500,"available":false,"price_varies":true,"compare_at_price":null,"compare_at_price_min":0,"compare_at_price_max":0,"compare_at_price_varies":false,"variants":[{"id":42356948500678,"title":"Awesome Black","option1":"Awesome Black","option2":null,"option3":null,"sku":"","requires_shipping":true,"taxable":false,"featured_image":{"id":34223198634182,"product_id":7663411626182,"position":1,"created_at":"2022-09-02T15:02:21+04:00","updated_at":"2022-09-02T15:03:32+04:00","alt":"Samsung Galaxy A53 5G 8GB 256GB Dual SIM - SPAZA.ae","width":800,"height":800,"src":"\/\/spaza.ae\/cdn\/shop\/products\/SamsungGalaxyA535GAwesomeBlackFront.jpg?v=1662116612","variant_ids":[42356948500678]},"available":false,"name":"Samsung Galaxy A53 5G 8GB 256GB Dual SIM - Awesome Black","public_title":"Awesome Black","options":["Awesome Black"],"price":132500,"weight":500,"compare_at_price":null,"inventory_quantity":-2,"inventory_management":"shopify","inventory_policy":"deny","barcode":"8806094067620","featured_media":{"alt":"Samsung Galaxy A53 5G 8GB 256GB Dual SIM - SPAZA.ae","id":26713658589382,"position":1,"preview_image":{"aspect_ratio":1.0,"height":800,"width":800,"src":"\/\/spaza.ae\/cdn\/shop\/products\/SamsungGalaxyA535GAwesomeBlackFront.jpg?v=1662116612"}}},{"id":42356948533446,"title":"Awesome Blue","option1":"Awesome Blue","option2":null,"option3":null,"sku":"","requires_shipping":true,"taxable":false,"featured_image":{"id":34223197454534,"product_id":7663411626182,"position":9,"created_at":"2022-09-02T15:02:21+04:00","updated_at":"2022-09-02T15:03:32+04:00","alt":"Samsung Galaxy A53 5G 8GB 256GB Dual SIM - SPAZA.ae","width":800,"height":800,"src":"\/\/spaza.ae\/cdn\/shop\/products\/SamsungGalaxyA535GAwesomeBlueFront.jpg?v=1662116612","variant_ids":[42356948533446]},"available":false,"name":"Samsung Galaxy A53 5G 8GB 256GB Dual SIM - Awesome Blue","public_title":"Awesome Blue","options":["Awesome Blue"],"price":132500,"weight":500,"compare_at_price":null,"inventory_quantity":-4,"inventory_management":"shopify","inventory_policy":"deny","barcode":"8806094066852","featured_media":{"alt":"Samsung Galaxy A53 5G 8GB 256GB Dual SIM - SPAZA.ae","id":26713658851526,"position":9,"preview_image":{"aspect_ratio":1.0,"height":800,"width":800,"src":"\/\/spaza.ae\/cdn\/shop\/products\/SamsungGalaxyA535GAwesomeBlueFront.jpg?v=1662116612"}}},{"id":42356948566214,"title":"Awesome Peach","option1":"Awesome Peach","option2":null,"option3":null,"sku":"","requires_shipping":true,"taxable":false,"featured_image":{"id":34223197290694,"product_id":7663411626182,"position":17,"created_at":"2022-09-02T15:02:21+04:00","updated_at":"2022-09-02T15:03:32+04:00","alt":"Samsung Galaxy A53 5G 8GB 256GB Dual SIM - SPAZA.ae","width":800,"height":800,"src":"\/\/spaza.ae\/cdn\/shop\/products\/SamsungGalaxyA535GAwesomePeachFront.jpg?v=1662116612","variant_ids":[42356948566214]},"available":false,"name":"Samsung Galaxy A53 5G 8GB 256GB Dual SIM - Awesome Peach","public_title":"Awesome Peach","options":["Awesome Peach"],"price":137500,"weight":500,"compare_at_price":null,"inventory_quantity":-1,"inventory_management":"shopify","inventory_policy":"deny","barcode":"8806094065336","featured_media":{"alt":"Samsung Galaxy A53 5G 8GB 256GB Dual SIM - SPAZA.ae","id":26713659113670,"position":17,"preview_image":{"aspect_ratio":1.0,"height":800,"width":800,"src":"\/\/spaza.ae\/cdn\/shop\/products\/SamsungGalaxyA535GAwesomePeachFront.jpg?v=1662116612"}}},{"id":42356948598982,"title":"Awesome White","option1":"Awesome White","option2":null,"option3":null,"sku":"","requires_shipping":true,"taxable":false,"featured_image":{"id":34223198404806,"product_id":7663411626182,"position":25,"created_at":"2022-09-02T15:02:21+04:00","updated_at":"2022-09-02T15:03:32+04:00","alt":"Samsung Galaxy A53 5G 8GB 256GB Dual SIM - SPAZA.ae","width":800,"height":800,"src":"\/\/spaza.ae\/cdn\/shop\/products\/SamsungGalaxyA535GAwesomeWhiteFront.jpg?v=1662116612","variant_ids":[42356948598982]},"available":false,"name":"Samsung Galaxy A53 5G 8GB 256GB Dual SIM - Awesome White","public_title":"Awesome White","options":["Awesome White"],"price":132500,"weight":500,"compare_at_price":null,"inventory_quantity":-1,"inventory_management":"shopify","inventory_policy":"deny","barcode":"8806094066036","featured_media":{"alt":"Samsung Galaxy A53 5G 8GB 256GB Dual SIM - SPAZA.ae","id":26713659375814,"position":25,"preview_image":{"aspect_ratio":1.0,"height":800,"width":800,"src":"\/\/spaza.ae\/cdn\/shop\/products\/SamsungGalaxyA535GAwesomeWhiteFront.jpg?v=1662116612"}}}],"images":["\/\/spaza.ae\/cdn\/shop\/products\/SamsungGalaxyA535GAwesomeBlackFront.jpg?v=1662116612","\/\/spaza.ae\/cdn\/shop\/products\/SamsungGalaxyA535GAwesomeBlackFL.jpg?v=1662116612","\/\/spaza.ae\/cdn\/shop\/products\/SamsungGalaxyA535GAwesomeBlackFR.jpg?v=1662116612","\/\/spaza.ae\/cdn\/shop\/products\/SamsungGalaxyA535GAwesomeBlackRear.jpg?v=1662116612","\/\/spaza.ae\/cdn\/shop\/products\/SamsungGalaxyA535GAwesomeBlackRR.jpg?v=1662116612","\/\/spaza.ae\/cdn\/shop\/products\/SamsungGalaxyA535GAwesomeBlackRL.jpg?v=1662116612","\/\/spaza.ae\/cdn\/shop\/products\/SamsungGalaxyA535GAwesomeBlackLS.jpg?v=1662116612","\/\/spaza.ae\/cdn\/shop\/products\/SamsungGalaxyA535GAwesomeBlackRS.jpg?v=1662116612","\/\/spaza.ae\/cdn\/shop\/products\/SamsungGalaxyA535GAwesomeBlueFront.jpg?v=1662116612","\/\/spaza.ae\/cdn\/shop\/products\/SamsungGalaxyA535GAwesomeBlueFL.jpg?v=1662116612","\/\/spaza.ae\/cdn\/shop\/products\/SamsungGalaxyA535GAwesomeBlueFR.jpg?v=1662116612","\/\/spaza.ae\/cdn\/shop\/products\/SamsungGalaxyA535GAwesomeBlueRear.jpg?v=1662116612","\/\/spaza.ae\/cdn\/shop\/products\/SamsungGalaxyA535GAwesomeBlueRL.jpg?v=1662116612","\/\/spaza.ae\/cdn\/shop\/products\/SamsungGalaxyA535GAwesomeBlueRR.jpg?v=1662116612","\/\/spaza.ae\/cdn\/shop\/products\/SamsungGalaxyA535GAwesomeBlueLS.jpg?v=1662116612","\/\/spaza.ae\/cdn\/shop\/products\/SamsungGalaxyA535GAwesomeBlueRS.jpg?v=1662116612","\/\/spaza.ae\/cdn\/shop\/products\/SamsungGalaxyA535GAwesomePeachFront.jpg?v=1662116612","\/\/spaza.ae\/cdn\/shop\/products\/SamsungGalaxyA535GAwesomePeachFL.jpg?v=1662116612","\/\/spaza.ae\/cdn\/shop\/products\/SamsungGalaxyA535GAwesomePeachFR.jpg?v=1662116612","\/\/spaza.ae\/cdn\/shop\/products\/SamsungGalaxyA535GAwesomePeachRear.jpg?v=1662116612","\/\/spaza.ae\/cdn\/shop\/products\/SamsungGalaxyA535GAwesomePeachRR.jpg?v=1662116612","\/\/spaza.ae\/cdn\/shop\/products\/SamsungGalaxyA535GAwesomePeachRL.jpg?v=1662116612","\/\/spaza.ae\/cdn\/shop\/products\/SamsungGalaxyA535GAwesomePeachLS.jpg?v=1662116612","\/\/spaza.ae\/cdn\/shop\/products\/SamsungGalaxyA535GAwesomePeachRS.jpg?v=1662116612","\/\/spaza.ae\/cdn\/shop\/products\/SamsungGalaxyA535GAwesomeWhiteFront.jpg?v=1662116612","\/\/spaza.ae\/cdn\/shop\/products\/SamsungGalaxyA535GAwesomeWhiteFL.jpg?v=1662116612","\/\/spaza.ae\/cdn\/shop\/products\/SamsungGalaxyA535GAwesomeWhiteFR.jpg?v=1662116612","\/\/spaza.ae\/cdn\/shop\/products\/SamsungGalaxyA535GAwesomeWhiteRear.jpg?v=1662116612","\/\/spaza.ae\/cdn\/shop\/products\/SamsungGalaxyA535GAwesomeWhiteRR.jpg?v=1662116612","\/\/spaza.ae\/cdn\/shop\/products\/SamsungGalaxyA535GAwesomeWhiteRL.jpg?v=1662116612","\/\/spaza.ae\/cdn\/shop\/products\/SamsungGalaxyA535GAwesomeWhiteLS.jpg?v=1662116612","\/\/spaza.ae\/cdn\/shop\/products\/SamsungGalaxyA535GAwesomeWhiteRS.jpg?v=1662116555"],"featured_image":"\/\/spaza.ae\/cdn\/shop\/products\/SamsungGalaxyA535GAwesomeBlackFront.jpg?v=1662116612","options":["Color"],"media":[{"alt":"Samsung Galaxy A53 5G 8GB 256GB Dual SIM - SPAZA.ae","id":26713658589382,"position":1,"preview_image":{"aspect_ratio":1.0,"height":800,"width":800,"src":"\/\/spaza.ae\/cdn\/shop\/products\/SamsungGalaxyA535GAwesomeBlackFront.jpg?v=1662116612"},"aspect_ratio":1.0,"height":800,"media_type":"image","src":"\/\/spaza.ae\/cdn\/shop\/products\/SamsungGalaxyA535GAwesomeBlackFront.jpg?v=1662116612","width":800},{"alt":"Samsung Galaxy A53 5G 8GB 256GB Dual SIM - SPAZA.ae","id":26713658523846,"position":2,"preview_image":{"aspect_ratio":1.0,"height":800,"width":800,"src":"\/\/spaza.ae\/cdn\/shop\/products\/SamsungGalaxyA535GAwesomeBlackFL.jpg?v=1662116612"},"aspect_ratio":1.0,"height":800,"media_type":"image","src":"\/\/spaza.ae\/cdn\/shop\/products\/SamsungGalaxyA535GAwesomeBlackFL.jpg?v=1662116612","width":800},{"alt":"Samsung Galaxy A53 5G 8GB 256GB Dual SIM - SPAZA.ae","id":26713658556614,"position":3,"preview_image":{"aspect_ratio":1.0,"height":800,"width":800,"src":"\/\/spaza.ae\/cdn\/shop\/products\/SamsungGalaxyA535GAwesomeBlackFR.jpg?v=1662116612"},"aspect_ratio":1.0,"height":800,"media_type":"image","src":"\/\/spaza.ae\/cdn\/shop\/products\/SamsungGalaxyA535GAwesomeBlackFR.jpg?v=1662116612","width":800},{"alt":"Samsung Galaxy A53 5G 8GB 256GB Dual SIM - SPAZA.ae","id":26713658654918,"position":4,"preview_image":{"aspect_ratio":1.0,"height":500,"width":500,"src":"\/\/spaza.ae\/cdn\/shop\/products\/SamsungGalaxyA535GAwesomeBlackRear.jpg?v=1662116612"},"aspect_ratio":1.0,"height":500,"media_type":"image","src":"\/\/spaza.ae\/cdn\/shop\/products\/SamsungGalaxyA535GAwesomeBlackRear.jpg?v=1662116612","width":500},{"alt":"Samsung Galaxy A53 5G 8GB 256GB Dual SIM - SPAZA.ae","id":26713658720454,"position":5,"preview_image":{"aspect_ratio":1.0,"height":800,"width":800,"src":"\/\/spaza.ae\/cdn\/shop\/products\/SamsungGalaxyA535GAwesomeBlackRR.jpg?v=1662116612"},"aspect_ratio":1.0,"height":800,"media_type":"image","src":"\/\/spaza.ae\/cdn\/shop\/products\/SamsungGalaxyA535GAwesomeBlackRR.jpg?v=1662116612","width":800},{"alt":"Samsung Galaxy A53 5G 8GB 256GB Dual SIM - SPAZA.ae","id":26713658687686,"position":6,"preview_image":{"aspect_ratio":1.0,"height":800,"width":800,"src":"\/\/spaza.ae\/cdn\/shop\/products\/SamsungGalaxyA535GAwesomeBlackRL.jpg?v=1662116612"},"aspect_ratio":1.0,"height":800,"media_type":"image","src":"\/\/spaza.ae\/cdn\/shop\/products\/SamsungGalaxyA535GAwesomeBlackRL.jpg?v=1662116612","width":800},{"alt":"Samsung Galaxy A53 5G 8GB 256GB Dual SIM - SPAZA.ae","id":26713658622150,"position":7,"preview_image":{"aspect_ratio":1.0,"height":800,"width":800,"src":"\/\/spaza.ae\/cdn\/shop\/products\/SamsungGalaxyA535GAwesomeBlackLS.jpg?v=1662116612"},"aspect_ratio":1.0,"height":800,"media_type":"image","src":"\/\/spaza.ae\/cdn\/shop\/products\/SamsungGalaxyA535GAwesomeBlackLS.jpg?v=1662116612","width":800},{"alt":"Samsung Galaxy A53 5G 8GB 256GB Dual SIM - SPAZA.ae","id":26713658753222,"position":8,"preview_image":{"aspect_ratio":1.0,"height":800,"width":800,"src":"\/\/spaza.ae\/cdn\/shop\/products\/SamsungGalaxyA535GAwesomeBlackRS.jpg?v=1662116612"},"aspect_ratio":1.0,"height":800,"media_type":"image","src":"\/\/spaza.ae\/cdn\/shop\/products\/SamsungGalaxyA535GAwesomeBlackRS.jpg?v=1662116612","width":800},{"alt":"Samsung Galaxy A53 5G 8GB 256GB Dual SIM - SPAZA.ae","id":26713658851526,"position":9,"preview_image":{"aspect_ratio":1.0,"height":800,"width":800,"src":"\/\/spaza.ae\/cdn\/shop\/products\/SamsungGalaxyA535GAwesomeBlueFront.jpg?v=1662116612"},"aspect_ratio":1.0,"height":800,"media_type":"image","src":"\/\/spaza.ae\/cdn\/shop\/products\/SamsungGalaxyA535GAwesomeBlueFront.jpg?v=1662116612","width":800},{"alt":"Samsung Galaxy A53 5G 8GB 256GB Dual SIM - SPAZA.ae","id":26713658785990,"position":10,"preview_image":{"aspect_ratio":1.0,"height":800,"width":800,"src":"\/\/spaza.ae\/cdn\/shop\/products\/SamsungGalaxyA535GAwesomeBlueFL.jpg?v=1662116612"},"aspect_ratio":1.0,"height":800,"media_type":"image","src":"\/\/spaza.ae\/cdn\/shop\/products\/SamsungGalaxyA535GAwesomeBlueFL.jpg?v=1662116612","width":800},{"alt":"Samsung Galaxy A53 5G 8GB 256GB Dual SIM - SPAZA.ae","id":26713658818758,"position":11,"preview_image":{"aspect_ratio":1.0,"height":800,"width":800,"src":"\/\/spaza.ae\/cdn\/shop\/products\/SamsungGalaxyA535GAwesomeBlueFR.jpg?v=1662116612"},"aspect_ratio":1.0,"height":800,"media_type":"image","src":"\/\/spaza.ae\/cdn\/shop\/products\/SamsungGalaxyA535GAwesomeBlueFR.jpg?v=1662116612","width":800},{"alt":"Samsung Galaxy A53 5G 8GB 256GB Dual SIM - SPAZA.ae","id":26713658917062,"position":12,"preview_image":{"aspect_ratio":1.0,"height":800,"width":800,"src":"\/\/spaza.ae\/cdn\/shop\/products\/SamsungGalaxyA535GAwesomeBlueRear.jpg?v=1662116612"},"aspect_ratio":1.0,"height":800,"media_type":"image","src":"\/\/spaza.ae\/cdn\/shop\/products\/SamsungGalaxyA535GAwesomeBlueRear.jpg?v=1662116612","width":800},{"alt":"Samsung Galaxy A53 5G 8GB 256GB Dual SIM - SPAZA.ae","id":26713658949830,"position":13,"preview_image":{"aspect_ratio":1.0,"height":800,"width":800,"src":"\/\/spaza.ae\/cdn\/shop\/products\/SamsungGalaxyA535GAwesomeBlueRL.jpg?v=1662116612"},"aspect_ratio":1.0,"height":800,"media_type":"image","src":"\/\/spaza.ae\/cdn\/shop\/products\/SamsungGalaxyA535GAwesomeBlueRL.jpg?v=1662116612","width":800},{"alt":"Samsung Galaxy A53 5G 8GB 256GB Dual SIM - SPAZA.ae","id":26713658982598,"position":14,"preview_image":{"aspect_ratio":1.0,"height":800,"width":800,"src":"\/\/spaza.ae\/cdn\/shop\/products\/SamsungGalaxyA535GAwesomeBlueRR.jpg?v=1662116612"},"aspect_ratio":1.0,"height":800,"media_type":"image","src":"\/\/spaza.ae\/cdn\/shop\/products\/SamsungGalaxyA535GAwesomeBlueRR.jpg?v=1662116612","width":800},{"alt":"Samsung Galaxy A53 5G 8GB 256GB Dual SIM - SPAZA.ae","id":26713658884294,"position":15,"preview_image":{"aspect_ratio":1.0,"height":800,"width":800,"src":"\/\/spaza.ae\/cdn\/shop\/products\/SamsungGalaxyA535GAwesomeBlueLS.jpg?v=1662116612"},"aspect_ratio":1.0,"height":800,"media_type":"image","src":"\/\/spaza.ae\/cdn\/shop\/products\/SamsungGalaxyA535GAwesomeBlueLS.jpg?v=1662116612","width":800},{"alt":"Samsung Galaxy A53 5G 8GB 256GB Dual SIM - SPAZA.ae","id":26713659015366,"position":16,"preview_image":{"aspect_ratio":1.0,"height":800,"width":800,"src":"\/\/spaza.ae\/cdn\/shop\/products\/SamsungGalaxyA535GAwesomeBlueRS.jpg?v=1662116612"},"aspect_ratio":1.0,"height":800,"media_type":"image","src":"\/\/spaza.ae\/cdn\/shop\/products\/SamsungGalaxyA535GAwesomeBlueRS.jpg?v=1662116612","width":800},{"alt":"Samsung Galaxy A53 5G 8GB 256GB Dual SIM - SPAZA.ae","id":26713659113670,"position":17,"preview_image":{"aspect_ratio":1.0,"height":800,"width":800,"src":"\/\/spaza.ae\/cdn\/shop\/products\/SamsungGalaxyA535GAwesomePeachFront.jpg?v=1662116612"},"aspect_ratio":1.0,"height":800,"media_type":"image","src":"\/\/spaza.ae\/cdn\/shop\/products\/SamsungGalaxyA535GAwesomePeachFront.jpg?v=1662116612","width":800},{"alt":"Samsung Galaxy A53 5G 8GB 256GB Dual SIM - SPAZA.ae","id":26713659048134,"position":18,"preview_image":{"aspect_ratio":1.0,"height":800,"width":800,"src":"\/\/spaza.ae\/cdn\/shop\/products\/SamsungGalaxyA535GAwesomePeachFL.jpg?v=1662116612"},"aspect_ratio":1.0,"height":800,"media_type":"image","src":"\/\/spaza.ae\/cdn\/shop\/products\/SamsungGalaxyA535GAwesomePeachFL.jpg?v=1662116612","width":800},{"alt":"Samsung Galaxy A53 5G 8GB 256GB Dual SIM - SPAZA.ae","id":26713659080902,"position":19,"preview_image":{"aspect_ratio":1.0,"height":800,"width":800,"src":"\/\/spaza.ae\/cdn\/shop\/products\/SamsungGalaxyA535GAwesomePeachFR.jpg?v=1662116612"},"aspect_ratio":1.0,"height":800,"media_type":"image","src":"\/\/spaza.ae\/cdn\/shop\/products\/SamsungGalaxyA535GAwesomePeachFR.jpg?v=1662116612","width":800},{"alt":"Samsung Galaxy A53 5G 8GB 256GB Dual SIM - SPAZA.ae","id":26713659179206,"position":20,"preview_image":{"aspect_ratio":1.0,"height":800,"width":800,"src":"\/\/spaza.ae\/cdn\/shop\/products\/SamsungGalaxyA535GAwesomePeachRear.jpg?v=1662116612"},"aspect_ratio":1.0,"height":800,"media_type":"image","src":"\/\/spaza.ae\/cdn\/shop\/products\/SamsungGalaxyA535GAwesomePeachRear.jpg?v=1662116612","width":800},{"alt":"Samsung Galaxy A53 5G 8GB 256GB Dual SIM - SPAZA.ae","id":26713659244742,"position":21,"preview_image":{"aspect_ratio":1.0,"height":800,"width":800,"src":"\/\/spaza.ae\/cdn\/shop\/products\/SamsungGalaxyA535GAwesomePeachRR.jpg?v=1662116612"},"aspect_ratio":1.0,"height":800,"media_type":"image","src":"\/\/spaza.ae\/cdn\/shop\/products\/SamsungGalaxyA535GAwesomePeachRR.jpg?v=1662116612","width":800},{"alt":"Samsung Galaxy A53 5G 8GB 256GB Dual SIM - SPAZA.ae","id":26713659211974,"position":22,"preview_image":{"aspect_ratio":1.0,"height":800,"width":800,"src":"\/\/spaza.ae\/cdn\/shop\/products\/SamsungGalaxyA535GAwesomePeachRL.jpg?v=1662116612"},"aspect_ratio":1.0,"height":800,"media_type":"image","src":"\/\/spaza.ae\/cdn\/shop\/products\/SamsungGalaxyA535GAwesomePeachRL.jpg?v=1662116612","width":800},{"alt":"Samsung Galaxy A53 5G 8GB 256GB Dual SIM - SPAZA.ae","id":26713659146438,"position":23,"preview_image":{"aspect_ratio":1.0,"height":800,"width":800,"src":"\/\/spaza.ae\/cdn\/shop\/products\/SamsungGalaxyA535GAwesomePeachLS.jpg?v=1662116612"},"aspect_ratio":1.0,"height":800,"media_type":"image","src":"\/\/spaza.ae\/cdn\/shop\/products\/SamsungGalaxyA535GAwesomePeachLS.jpg?v=1662116612","width":800},{"alt":"Samsung Galaxy A53 5G 8GB 256GB Dual SIM - SPAZA.ae","id":26713659277510,"position":24,"preview_image":{"aspect_ratio":1.0,"height":800,"width":800,"src":"\/\/spaza.ae\/cdn\/shop\/products\/SamsungGalaxyA535GAwesomePeachRS.jpg?v=1662116612"},"aspect_ratio":1.0,"height":800,"media_type":"image","src":"\/\/spaza.ae\/cdn\/shop\/products\/SamsungGalaxyA535GAwesomePeachRS.jpg?v=1662116612","width":800},{"alt":"Samsung Galaxy A53 5G 8GB 256GB Dual SIM - SPAZA.ae","id":26713659375814,"position":25,"preview_image":{"aspect_ratio":1.0,"height":800,"width":800,"src":"\/\/spaza.ae\/cdn\/shop\/products\/SamsungGalaxyA535GAwesomeWhiteFront.jpg?v=1662116612"},"aspect_ratio":1.0,"height":800,"media_type":"image","src":"\/\/spaza.ae\/cdn\/shop\/products\/SamsungGalaxyA535GAwesomeWhiteFront.jpg?v=1662116612","width":800},{"alt":"Samsung Galaxy A53 5G 8GB 256GB Dual SIM - SPAZA.ae","id":26713659310278,"position":26,"preview_image":{"aspect_ratio":1.0,"height":800,"width":800,"src":"\/\/spaza.ae\/cdn\/shop\/products\/SamsungGalaxyA535GAwesomeWhiteFL.jpg?v=1662116612"},"aspect_ratio":1.0,"height":800,"media_type":"image","src":"\/\/spaza.ae\/cdn\/shop\/products\/SamsungGalaxyA535GAwesomeWhiteFL.jpg?v=1662116612","width":800},{"alt":"Samsung Galaxy A53 5G 8GB 256GB Dual SIM - SPAZA.ae","id":26713659343046,"position":27,"preview_image":{"aspect_ratio":1.0,"height":800,"width":800,"src":"\/\/spaza.ae\/cdn\/shop\/products\/SamsungGalaxyA535GAwesomeWhiteFR.jpg?v=1662116612"},"aspect_ratio":1.0,"height":800,"media_type":"image","src":"\/\/spaza.ae\/cdn\/shop\/products\/SamsungGalaxyA535GAwesomeWhiteFR.jpg?v=1662116612","width":800},{"alt":"Samsung Galaxy A53 5G 8GB 256GB Dual SIM - SPAZA.ae","id":26713659441350,"position":28,"preview_image":{"aspect_ratio":1.0,"height":800,"width":800,"src":"\/\/spaza.ae\/cdn\/shop\/products\/SamsungGalaxyA535GAwesomeWhiteRear.jpg?v=1662116612"},"aspect_ratio":1.0,"height":800,"media_type":"image","src":"\/\/spaza.ae\/cdn\/shop\/products\/SamsungGalaxyA535GAwesomeWhiteRear.jpg?v=1662116612","width":800},{"alt":"Samsung Galaxy A53 5G 8GB 256GB Dual SIM - SPAZA.ae","id":26713659506886,"position":29,"preview_image":{"aspect_ratio":1.0,"height":800,"width":800,"src":"\/\/spaza.ae\/cdn\/shop\/products\/SamsungGalaxyA535GAwesomeWhiteRR.jpg?v=1662116612"},"aspect_ratio":1.0,"height":800,"media_type":"image","src":"\/\/spaza.ae\/cdn\/shop\/products\/SamsungGalaxyA535GAwesomeWhiteRR.jpg?v=1662116612","width":800},{"alt":"Samsung Galaxy A53 5G 8GB 256GB Dual SIM - SPAZA.ae","id":26713659474118,"position":30,"preview_image":{"aspect_ratio":1.0,"height":800,"width":800,"src":"\/\/spaza.ae\/cdn\/shop\/products\/SamsungGalaxyA535GAwesomeWhiteRL.jpg?v=1662116612"},"aspect_ratio":1.0,"height":800,"media_type":"image","src":"\/\/spaza.ae\/cdn\/shop\/products\/SamsungGalaxyA535GAwesomeWhiteRL.jpg?v=1662116612","width":800},{"alt":"Samsung Galaxy A53 5G 8GB 256GB Dual SIM - SPAZA.ae","id":26713659408582,"position":31,"preview_image":{"aspect_ratio":1.0,"height":800,"width":800,"src":"\/\/spaza.ae\/cdn\/shop\/products\/SamsungGalaxyA535GAwesomeWhiteLS.jpg?v=1662116612"},"aspect_ratio":1.0,"height":800,"media_type":"image","src":"\/\/spaza.ae\/cdn\/shop\/products\/SamsungGalaxyA535GAwesomeWhiteLS.jpg?v=1662116612","width":800},{"alt":"Samsung Galaxy A53 5G 8GB 256GB Dual SIM - SPAZA.ae","id":26713659539654,"position":32,"preview_image":{"aspect_ratio":1.0,"height":800,"width":800,"src":"\/\/spaza.ae\/cdn\/shop\/products\/SamsungGalaxyA535GAwesomeWhiteRS.jpg?v=1662116555"},"aspect_ratio":1.0,"height":800,"media_type":"image","src":"\/\/spaza.ae\/cdn\/shop\/products\/SamsungGalaxyA535GAwesomeWhiteRS.jpg?v=1662116555","width":800}],"content":"\u003ch1\u003e\u003cspan style=\"text-decoration: underline;\" data-mce-style=\"text-decoration: underline;\"\u003e\u003cstrong\u003e1 Year AXIOM \/ SAMSUNG Warranty\u003c\/strong\u003e\u003c\/span\u003e\u003c\/h1\u003e\n\u003ch2\u003e\u003cspan style=\"text-decoration: underline;\" data-mce-style=\"text-decoration: underline;\"\u003e\u003cstrong\u003eTRA Approved\u003c\/strong\u003e\u003c\/span\u003e\u003c\/h2\u003e\n\u003ch1\u003e\u003cspan style=\"text-decoration: underline;\" data-mce-style=\"text-decoration: underline;\"\u003e\u003cstrong\u003eNext Day Delivery\u003c\/strong\u003e\u003c\/span\u003e\u003c\/h1\u003e\n\u003cdiv class=\"feature-benefit feature-beneift--padding-top-normal feature-beneift--padding-bottom-normal bg-black\"\u003e\n\u003cdiv class=\"feature-benefit__text-wrap\"\u003e\n\u003cdiv class=\"feature-benefit__text\"\u003e\n\u003cdiv class=\"feature-benefit feature-beneift--padding-top-normal feature-beneift--padding-bottom-normal bg-white\"\u003e\n\u003cdiv class=\"feature-benefit__text-wrap\"\u003e\n\u003cdiv class=\"feature-benefit__text\"\u003e\n\u003ch2 class=\"feature-benefit__title contrast-target\" data-font-size-mo=\"30\" data-font-size-pc=\"48\"\u003e\u003cspan style=\"text-decoration: underline;\" data-mce-style=\"text-decoration: underline;\"\u003e\u003cstrong\u003eOS\u003c\/strong\u003e\u003c\/span\u003e\u003c\/h2\u003e\n\u003c\/div\u003e\n\u003c\/div\u003e\n\u003c\/div\u003e\n\u003cp\u003e\u003cspan\u003eAndroid\u003c\/span\u003e\u003c\/p\u003e\n\u003cp\u003e\u003cspan style=\"text-decoration: underline;\" data-mce-style=\"text-decoration: underline;\"\u003e\u003cstrong\u003eDisplay\u003c\/strong\u003e\u003c\/span\u003e\u003cbr\u003e\u003cspan\u003e6.5-inch 2400 x 1080 FHD+, Super AMOLED\u003c\/span\u003e\u003c\/p\u003e\n\u003cp\u003e\u003cspan\u003eInfinity-O Display\u003c\/span\u003e\u003c\/p\u003e\n\u003cp\u003e\u003cspan style=\"text-decoration: underline;\" data-mce-style=\"text-decoration: underline;\"\u003e\u003cstrong\u003eDimension\u003c\/strong\u003e \u003c\/span\u003e\u003cbr\u003e\u003cspan\u003e159.6 x 74.8 x 8.1 mm \/ 189 gm\u003c\/span\u003e\u003c\/p\u003e\n\u003cp\u003e\u003cspan style=\"text-decoration: underline;\" data-mce-style=\"text-decoration: underline;\"\u003e\u003cstrong\u003eCamera\u003c\/strong\u003e\u003c\/span\u003e\u003cbr\u003e\u003cspan style=\"text-decoration: underline;\" data-mce-style=\"text-decoration: underline;\"\u003eRear:\u003c\/span\u003e\u003c\/p\u003e\n\u003cp\u003e\u003cstrong class=\"spec-highlight__title\"\u003e\u003c\/strong\u003eResolution (Multiple)\u003cstrong class=\"spec-highlight__title\"\u003e \u003c\/strong\u003e\u003cspan class=\"spec-highlight__value\"\u003e64.0 MP + 12.0 MP + 5.0 MP \u003cspan data-mce-fragment=\"1\"\u003e+ 5.0 MP\u003c\/span\u003e\u003c\/span\u003e\u003c\/p\u003e\n\u003cp\u003eRear Camera - F Number (Multiple)\u003cstrong class=\"spec-highlight__title\"\u003e \u003c\/strong\u003e\u003cspan class=\"spec-highlight__value\"\u003eF1.8 , F2.2 , F2.4\u003cspan data-mce-fragment=\"1\"\u003e , F2.4\u003c\/span\u003e\u003c\/span\u003e\u003c\/p\u003e\n\u003cp\u003eMain Camera - Auto Focus\u003cstrong class=\"spec-highlight__title\"\u003e \u003c\/strong\u003e\u003cspan class=\"spec-highlight__value\"\u003eYes\u003c\/span\u003e\u003c\/p\u003e\n\u003cp\u003eRear Camera - OIS - Yes\u003c\/p\u003e\n\u003cp\u003eRear Camera Zoom\u003cstrong class=\"spec-highlight__title\"\u003e - \u003c\/strong\u003e\u003cspan class=\"spec-highlight__value\"\u003eDigital Zoom up to 10x\u003c\/span\u003e\u003c\/p\u003e\n\u003cp\u003e\u003cspan class=\"spec-highlight__value\"\u003e\u003cspan data-mce-fragment=\"1\"\u003e\u003cspan style=\"text-decoration: underline;\" data-mce-style=\"text-decoration: underline;\"\u003eFront\u003c\/span\u003e:\u003c\/span\u003e\u003c\/span\u003e\u003c\/p\u003e\n\u003cp\u003eFront Camera - Resolution - \u003cspan class=\"spec-highlight__value\"\u003e32.0 MP\u003c\/span\u003e\u003c\/p\u003e\n\u003cp\u003eFront Camera - F Number - \u003cspan class=\"spec-highlight__value\"\u003eF2.2\u003c\/span\u003e\u003c\/p\u003e\n\u003cp\u003eFront Camera - Auto Focus - \u003cspan class=\"spec-highlight__value\"\u003eNo\u003c\/span\u003e\u003c\/p\u003e\n\u003cp\u003eFront Camera - OIS - \u003cspan class=\"spec-highlight__value\"\u003eNo\u003c\/span\u003e\u003c\/p\u003e\n\u003cp\u003eMain Camera - Flash - \u003cspan class=\"spec-highlight__value\"\u003eYes\u003c\/span\u003e\u003c\/p\u003e\n\u003cp\u003eFront Camera - Flash - \u003cspan class=\"spec-highlight__value\"\u003eNo\u003c\/span\u003e\u003c\/p\u003e\n\u003cp\u003eVideo Recording Resolution - \u003cspan class=\"spec-highlight__value\"\u003eUHD 4K (3840 x 2160)@30fps\u003c\/span\u003e\u003c\/p\u003e\n\u003cp\u003eSlow Motion - \u003cspan class=\"spec-highlight__value\"\u003e240fps @HD\u003c\/span\u003e\u003c\/p\u003e\n\u003cp\u003e\u003cspan style=\"text-decoration: underline;\" data-mce-style=\"text-decoration: underline;\"\u003e\u003cstrong\u003eAP\u003c\/strong\u003e\u003c\/span\u003e\u003cbr\u003e\u003cspan\u003eOcta Core 2.4GHz, 2GHz\u003c\/span\u003e\u003cbr\u003e\u003cspan style=\"text-decoration: underline;\" data-mce-style=\"text-decoration: underline;\"\u003e\u003cstrong\u003eMemory\u003c\/strong\u003e\u003c\/span\u003e\u003cbr\u003e\u003cspan\u003e8GB RAM , 256GB Internal Storage, External memory - MicroSD (Up to 1TB)\u003c\/span\u003e\u003c\/p\u003e\n\u003cp\u003e\u003cspan style=\"text-decoration: underline;\" data-mce-style=\"text-decoration: underline;\"\u003e\u003cstrong\u003eNetwork\u003c\/strong\u003e\u003c\/span\u003e\u003c\/p\u003e\n\u003cp\u003e5G, 4G, WiFi\u003cbr\u003e\u003cspan style=\"text-decoration: underline;\" data-mce-style=\"text-decoration: underline;\"\u003e\u003cstrong\u003eSIM Card\u003c\/strong\u003e\u003c\/span\u003e\u003cbr\u003e\u003cspan\u003eDual SIM - Nano SIM (SIM 1 + Hybrid (SIM or MicroSD)\u003c\/span\u003e\u003cbr\u003e\u003cbr\u003e\u003cspan style=\"text-decoration: underline;\" data-mce-style=\"text-decoration: underline;\"\u003e\u003cstrong\u003eBattery\u003c\/strong\u003e\u003c\/span\u003e\u003cbr\u003e5,000 mAh, 2\u003cspan\u003e5W Fast Charging\u003c\/span\u003e\u003c\/p\u003e\n\u003cp\u003e\u003cspan style=\"text-decoration: underline;\" data-mce-style=\"text-decoration: underline;\"\u003e\u003cstrong\u003eBiometric Authentications\u003c\/strong\u003e\u003c\/span\u003e\u003c\/p\u003e\n\u003cp\u003e\u003cspan\u003eFingerprint sensor\u003c\/span\u003e\u003c\/p\u003e\n\u003ch2 data-font-size-pc=\"48\" data-font-size-mo=\"30\" class=\"feature-benefit__title contrast-target\"\u003eFast. To the point of innovation\u003c\/h2\u003e\n\u003cdiv class=\"feature-benefit__desc-wrap\"\u003e\n\u003cp data-font-size-pc=\"18\" data-font-size-mo=\"12\" class=\"feature-benefit__desc contrast-target\"\u003eWith Samsung Galaxy A53 5G, \u003cspan data-mce-fragment=\"1\"\u003eyour world becomes a Galaxy. Hyperfast connection means seamless streaming and sharing with your friends and family.\u003c\/span\u003e\u003c\/p\u003e\n\u003c\/div\u003e\n\u003c\/div\u003e\n\u003c\/div\u003e\n\u003cdiv class=\"feature-benefit__img-wrap\"\u003e\n\u003cdiv class=\"image image--dyn-height image--main-loaded\"\u003e\u003cimg src=\"https:\/\/images.samsung.com\/is\/image\/samsung\/p6pim\/ae\/feature\/151947011\/ae-feature-awesome-5g--awesome-speed-497027313?%24FB_TYPE_A_JPG%24\" data-comp-name=\"common.image\" alt=\"Galaxy A52s 5G seen from the front with 5G on the display. Colorful streaks of light surround it to represent fast 5G speeds.\" data-mobile-src=\"\/\/images.samsung.com\/is\/image\/samsung\/p6pim\/ae\/feature\/151947011\/ae-feature-awesome-5g--awesome-speed-497027314?$FB_TYPE_A_MO_JPG$\" data-desktop-src=\"\/\/images.samsung.com\/is\/image\/samsung\/p6pim\/ae\/feature\/151947011\/ae-feature-awesome-5g--awesome-speed-497027313?$FB_TYPE_A_JPG$\" class=\"image__main responsive-img image--loaded\" data-mce-src=\"https:\/\/images.samsung.com\/is\/image\/samsung\/p6pim\/ae\/feature\/151947011\/ae-feature-awesome-5g--awesome-speed-497027313?$FB_TYPE_A_JPG$\"\u003e\u003c\/div\u003e\n\u003c\/div\u003e\n\u003c\/div\u003e\n\u003cdiv class=\"feature-benefit feature-beneift--padding-top-normal feature-beneift--padding-bottom-normal bg-white\"\u003e\n\u003cdiv class=\"feature-benefit__text-wrap\"\u003e\n\u003cdiv class=\"feature-benefit__text\"\u003e\n\u003ch2 data-font-size-pc=\"48\" data-font-size-mo=\"30\" class=\"feature-benefit__title contrast-target\"\u003e\u003cbr\u003e\u003c\/h2\u003e\n\u003ch2 data-font-size-pc=\"48\" data-font-size-mo=\"30\" class=\"feature-benefit__title contrast-target\"\u003ePure processing power\u003c\/h2\u003e\n\u003cp\u003e\u003cspan\u003eTime to get to work. Powered with a 5nm Octa-core processor, your Samsung Galaxy A53 5G is built to handle heavy-duty multitasking. RAM Plus reads your usage patterns and provides extra virtual RAM for an additional boost.\u003c\/span\u003e\u003c\/p\u003e\n\u003cp\u003e\u003cspan\u003e\u003cimg alt=\"A metallic, square processor chip is shown with text on the surface that reads 5nm processor. Surrounding the chip are text that reads RAM Plus up to 6GB\/8GB virtual RAM, Processor 5nm Octa-core, Up to 6% faster performance core, Up to 33% faster graphic performance, Up to 43% faster neural processor.\" src=\"https:\/\/images.samsung.com\/is\/image\/samsung\/p6pim\/ae\/2202\/feature\/ae-feature-pure-processing-power-531467258?%24FB_TYPE_A_JPG%24\"\u003e\u003c\/span\u003e\u003c\/p\u003e\n\u003ch2 data-font-size-pc=\"48\" data-font-size-mo=\"30\" class=\"feature-benefit__title contrast-target\"\u003e\u003cbr\u003e\u003c\/h2\u003e\n\u003ch2 data-font-size-pc=\"48\" data-font-size-mo=\"30\" class=\"feature-benefit__title contrast-target\"\u003eHold on to your memories\u003c\/h2\u003e\n\u003cdiv class=\"feature-benefit__desc-wrap\"\u003e\n\u003cp data-font-size-pc=\"18\" data-font-size-mo=\"12\" class=\"feature-benefit__desc contrast-target\"\u003eIt's a whole lot with your Samsung Galaxy A53 5G's 256GB of internal storage plus support for a microSD card up to 1TB, you've got room for all your precious moments.\u003c\/p\u003e\n\u003cp data-font-size-pc=\"18\" data-font-size-mo=\"12\" class=\"feature-benefit__desc contrast-target\"\u003e\u003cimg alt=\"A metallic, square processor chip is shown with text on the surface that reads 5nm processor. Surrounding the chip are text that reads RAM Plus up to 6GB\/8GB virtual RAM, Processor 5nm Octa-core, Up to 6% faster performance core, Up to 33% faster graphic performance, Up to 43% faster neural processor.\" src=\"https:\/\/images.samsung.com\/is\/image\/samsung\/p6pim\/ae\/2202\/feature\/ae-feature-hold-on-to-your-memories-531467209?%24FB_TYPE_A_JPG%24\"\u003e\u003c\/p\u003e\n\u003c\/div\u003e\n\u003ch2 data-font-size-pc=\"48\" data-font-size-mo=\"30\" class=\"feature-benefit__title contrast-target\"\u003e\u003cbr\u003e\u003c\/h2\u003e\n\u003cdiv class=\"feature-benefit bg-white\"\u003e\n\u003cdiv class=\"feature-benefit__inner\"\u003e\n\u003cdiv data-swiper-option='{\"keepWrapper\":true,\"autoHeight\":true,\"pagination\":true,\"offTxtAccesibility\": true,\"componentEl\":\".feature-benefit\"}' class=\"feature-benefit__swiper swiper-container basic-swiper swiper-container-initialized swiper-container-horizontal swiper-container-autoheight\"\u003e\n\u003cdiv class=\"swiper-wrapper\"\u003e\n\u003cdiv data-media-action=\"click\" data-media-details=\"carousel:index:2\" data-media-group=\"interest\" aria-hidden=\"false\" aria-describedby=\"swiper2\" data-type-headline=\"Simplicity takes the crown\" class=\"swiper-slide swiper-slide-active\" an-la=\"carousel:index:2\" an-ac=\"carousel\" an-ca=\"indication\" an-tr=\"ftd01_feature benefit-product detail-image-index\"\u003e\n\u003cdiv class=\"feature-benefit__text-wrap\"\u003e\n\u003cdiv class=\"feature-benefit__text\"\u003e\n\u003ch2 data-font-size-pc=\"48\" data-font-size-mo=\"30\" class=\"feature-benefit__title contrast-target\"\u003eSimplicity takes the crown\u003c\/h2\u003e\n\u003cdiv class=\"feature-benefit__desc-wrap\"\u003e\n\u003cp data-font-size-pc=\"18\" data-font-size-mo=\"12\" class=\"feature-benefit__desc contrast-target\"\u003eThe Samsung Galaxy A53 5G is designed to stand out. With the Ambient Edge blending the camera with the body seamlessly, your Galaxy is entirely beautiful and fully functional with added battery capacity inside a slimmer, matte frame.\u003c\/p\u003e\n\u003cp data-font-size-pc=\"18\" data-font-size-mo=\"12\" class=\"feature-benefit__desc contrast-target\"\u003e\u003cimg alt=\"1. Galaxy A53 5G in Awesome Blue, seen from multiple angles to show the design: rear, front, side and close-up on the rear camera. Text saying Sweetest Color, Slim \u0026amp; Symmetric, Ambient EDGE.\" src=\"https:\/\/images.samsung.com\/is\/image\/samsung\/p6pim\/ae\/2202\/feature\/ae-feature-simplicity-takes-the-crown-531467236?%24FB_TYPE_A_JPG%24\"\u003e\u003c\/p\u003e\n\u003cp data-font-size-pc=\"18\" data-font-size-mo=\"12\" class=\"feature-benefit__desc contrast-target\"\u003e \u003cbr\u003e\u003c\/p\u003e\n\u003ch2 data-font-size-pc=\"48\" data-font-size-mo=\"30\" class=\"feature-benefit__title contrast-target\"\u003eA cinematic view of your world\u003c\/h2\u003e\n\u003cdiv class=\"feature-benefit__desc-wrap\"\u003e\n\u003cp data-font-size-pc=\"18\" data-font-size-mo=\"12\" class=\"feature-benefit__desc contrast-target\"\u003eFeast your eyes on vibrant details with the FHD+ Super AMOLED display of your Samsung Galaxy A53 5G. With the expansive 6.5-inch Infinity-O Display, enjoy vivid outdoor visibility up to 800 nits while reducing blue light with the Eye Comfort Shield.\u003c\/p\u003e\n\u003c\/div\u003e\n\u003cp data-font-size-pc=\"18\" data-font-size-mo=\"12\" class=\"feature-benefit__desc contrast-target\"\u003e\u003cimg src=\"https:\/\/images.samsung.com\/is\/image\/samsung\/p6pim\/ae\/2202\/feature\/ae-feature-a-cinematic-view-of-your-world-531467254?%24FB_TYPE_A_JPG%24\" alt=\"Galaxy A53 5G seen from the front against a beautiful landscape that overlaps onto the screen. It shows an expansive sky over water that reflects it with a thin horizon dissecting near the middle. In the center of the screen, a man is jumping in the air with all four limps outstretched and his reflection is shown on the water.\" data-mce-fragment=\"1\" data-mce-src=\"https:\/\/images.samsung.com\/is\/image\/samsung\/p6pim\/ae\/2202\/feature\/ae-feature-a-cinematic-view-of-your-world-531467254?$FB_TYPE_A_JPG$\"\u003e \u003cbr\u003e\u003c\/p\u003e\n\u003ch2 data-font-size-pc=\"48\" data-font-size-mo=\"30\" class=\"feature-benefit__title contrast-target\"\u003eAwesome screen, super smooth scrolling\u003c\/h2\u003e\n\u003cdiv class=\"feature-benefit__desc-wrap\"\u003e\n\u003cp data-font-size-pc=\"18\" data-font-size-mo=\"12\" class=\"feature-benefit__desc contrast-target\"\u003eWatch anything on your Samsung Galaxy A53 5G's 120Hz Super AMOLED display to see how silky smooth is now a viewing experience with less blur, more details, and vivid contrast.\u003c\/p\u003e\n\u003c\/div\u003e\n\u003cp data-font-size-pc=\"18\" data-font-size-mo=\"12\" class=\"feature-benefit__desc contrast-target\"\u003e\u003cimg src=\"https:\/\/images.samsung.com\/is\/image\/samsung\/p6pim\/ae\/2202\/feature\/ae-feature-awesome-screen--super-smooth-scrolling-531467274?%24FB_TYPE_A_JPG%24\" alt=\"Galaxy A53 5G is laid horizontally with a colorful image of green and yellow hues shown on the screen. In text, 120HZ is shown on the screen and SUPER AMOLED shown below.\" data-mce-fragment=\"1\" data-mce-src=\"https:\/\/images.samsung.com\/is\/image\/samsung\/p6pim\/ae\/2202\/feature\/ae-feature-awesome-screen--super-smooth-scrolling-531467274?$FB_TYPE_A_JPG$\"\u003e\u003cbr\u003e\u003c\/p\u003e\n\u003cp data-font-size-pc=\"18\" data-font-size-mo=\"12\" class=\"feature-benefit__desc contrast-target\"\u003e \u003c\/p\u003e\n\u003cdiv class=\"feature-benefit feature-beneift--padding-top-normal feature-beneift--padding-bottom-normal bg-white\"\u003e\n\u003cdiv class=\"feature-benefit__text-wrap\"\u003e\n\u003cdiv class=\"feature-benefit__text\"\u003e\n\u003ch2 data-font-size-pc=\"48\" data-font-size-mo=\"30\" class=\"feature-benefit__title contrast-target\"\u003eAwesome camera, always sharp and steady\u003c\/h2\u003e\n\u003cdiv class=\"feature-benefit__desc-wrap\"\u003e\n\u003cp data-font-size-pc=\"18\" data-font-size-mo=\"12\" class=\"feature-benefit__desc contrast-target\"\u003eThe multi-lens camera on the Samsung Galaxy A53 5G takes photos to the next level. Get crisper, clearer shots with the 64MP OIS Camera, expand your viewing angle with the Ultra Wide Camera, customize focus with the Depth Camera and get closer to details with the Macro Camera. \u003cimg src=\"https:\/\/images.samsung.com\/is\/image\/samsung\/p6pim\/ae\/2202\/feature\/ae-feature-awesome-camera--always-sharp-and-steady-531467268?%24FB_TYPE_A_JPG%24\" alt=\"Two Galaxy A53 5G models, both in Awesome Blue, show the rear side and front side of the device. On the left, the rear side of the device shows the 5MP F2.4 Macro Camera, 12MP F2.2 Ultra Wide Camera, 64MP F1.8 Main Camera and the 5MP F2.4 Depth Camera. On the right, the front side of the device shows the 32MP Front Camera and a picture displayed on the screen of a woman laughing.\" data-mce-fragment=\"1\" data-mce-src=\"https:\/\/images.samsung.com\/is\/image\/samsung\/p6pim\/ae\/2202\/feature\/ae-feature-awesome-camera--always-sharp-and-steady-531467268?$FB_TYPE_A_JPG$\"\u003e\u003c\/p\u003e\n\u003c\/div\u003e\n\u003c\/div\u003e\n\u003c\/div\u003e\n\u003c\/div\u003e\n\u003cp data-font-size-pc=\"18\" data-font-size-mo=\"12\" class=\"feature-benefit__desc contrast-target\"\u003e \u003cbr\u003e\u003c\/p\u003e\n\u003ch2 data-font-size-mo=\"30\" data-font-size-pc=\"48\" class=\"feature-benefit-full-bleed__title\"\u003eShoot stable video like a pro\u003c\/h2\u003e\n\u003cp data-font-size-mo=\"12\" data-font-size-pc=\"18\" class=\"feature-benefit-full-bleed__text\"\u003eCapture your world on-the-go. With OIS, your Samsung Galaxy Galaxy A53 5G records your videos more smoothly and captures finer details even in low light.\u003c\/p\u003e\n\u003cp data-font-size-pc=\"18\" data-font-size-mo=\"12\" class=\"feature-benefit__desc contrast-target\"\u003e\u003cimg src=\"https:\/\/images.samsung.com\/is\/image\/samsung\/p6pim\/ae\/2202\/feature\/ae-feature-shoot-stable-video-like-a-pro-531467230?%24FB_TYPE_K_JPG%24\" alt=\"A wide photo of a plate of a sliced sandwich is shown, dissected by a Galaxy A53 5G at the center. To the left of the smartphone, the image of the sandwich is bland and muted. To the right, the other half of the sandwich is shown much more bright, colorful and appetizing. On screen, the sandwich is also dissected by the Before and After effects of photo Remaster, showing the difference in image quality.\" data-mce-fragment=\"1\" data-mce-src=\"https:\/\/images.samsung.com\/is\/image\/samsung\/p6pim\/ae\/2202\/feature\/ae-feature-shoot-stable-video-like-a-pro-531467230?$FB_TYPE_K_JPG$\"\u003e\u003cbr\u003e\u003c\/p\u003e\n\u003cp data-font-size-pc=\"18\" data-font-size-mo=\"12\" class=\"feature-benefit__desc contrast-target\"\u003e \u003cbr\u003e\u003c\/p\u003e\n\u003ch2 data-font-size-pc=\"48\" data-font-size-mo=\"30\" class=\"feature-benefit__title contrast-target\"\u003eBetter shots with AI Image Enhancer\u003c\/h2\u003e\n\u003cdiv class=\"feature-benefit__desc-wrap\"\u003e\n\u003cp data-font-size-pc=\"18\" data-font-size-mo=\"12\" class=\"feature-benefit__desc contrast-target\"\u003ePhoto remaster's powerful AI automatically enhances your photos so you can upgrade your images right away.\u003c\/p\u003e\n\u003cp data-font-size-pc=\"18\" data-font-size-mo=\"12\" class=\"feature-benefit__desc contrast-target\"\u003e\u003cimg alt=\"A wide photo of a plate of a sliced sandwich is shown, dissected by a Galaxy A53 5G at the center. To the left of the smartphone, the image of the sandwich is bland and muted. To the right, the other half of the sandwich is shown much more bright, colorful and appetizing. On screen, the sandwich is also dissected by the Before and After effects of photo Remaster, showing the difference in image quality.\" src=\"https:\/\/images.samsung.com\/is\/image\/samsung\/p6pim\/ae\/2202\/feature\/ae-feature-better-shots-with-ai-image-enhancer-531467238?%24FB_TYPE_A_JPG%24\"\u003e\u003c\/p\u003e\n\u003c\/div\u003e\n\u003cp data-font-size-pc=\"18\" data-font-size-mo=\"12\" class=\"feature-benefit__desc contrast-target\"\u003e \u003cbr\u003e\u003c\/p\u003e\n\u003ch2 data-font-size-pc=\"48\" data-font-size-mo=\"30\" class=\"feature-benefit__title contrast-target\"\u003eFun times with Fun mode\u003c\/h2\u003e\n\u003cdiv class=\"feature-benefit__desc-wrap\"\u003e\n\u003cp data-font-size-pc=\"18\" data-font-size-mo=\"12\" class=\"feature-benefit__desc contrast-target\"\u003eCapture your funniest moments with new Snapchat Lenses updated regularly on Fun mode. Browse and try on your favorites, capture your best look and share them with your friends.\u003c\/p\u003e\n\u003cp data-font-size-pc=\"18\" data-font-size-mo=\"12\" class=\"feature-benefit__desc contrast-target\"\u003e\u003cimg alt=\"Numerous screens of the Galaxy A53 5G, with the one at the center being the largest and showing a woman using the Moving Neon Frame, shows several other people using Fun mode to try on different Snapchat Lenses that are applying various filters onto their faces and background. The other users are using filters that add the following effects to the user's facial features and background: Cowboy hats, black sunglasses and a black beard, comically enlarging one's mouth sideways, white and pink hearts in the background as well as a pink ribbon headband, pink bunny ears and sparkling lights in the background, and more.\" src=\"https:\/\/images.samsung.com\/is\/image\/samsung\/p6pim\/ae\/2202\/feature\/ae-feature-fun-times-with-fun-mode-531467264?%24FB_TYPE_A_JPG%24\"\u003e\u003c\/p\u003e\n\u003c\/div\u003e\n\u003cp data-font-size-pc=\"18\" data-font-size-mo=\"12\" class=\"feature-benefit__desc contrast-target\"\u003e \u003cbr\u003e\u003c\/p\u003e\n\u003ch2 data-font-size-mo=\"70\" data-font-size-pc=\"64\" id=\"tabTitleId_01\" class=\"feature-benefit-tab__title\"\u003eCapture your awesomeness\u003c\/h2\u003e\n\u003cp data-font-size-mo=\"28\" data-font-size-pc=\"18\" class=\"feature-benefit-tab__description\"\u003eWith bokeh effects and dual lenses for a depth camera powered by AI, you can capture the fine attributes that make every face unique. Blur out the background and focus on the details that brings the life out from inside the frame. \u003cimg src=\"https:\/\/images.samsung.com\/is\/image\/samsung\/p6pim\/ae\/2202\/feature\/ae-feature---531467240?%241204_n_JPG%24\" alt=\"1. A woman is standing in front of colorful houses. However, with the Portrait On icon above activated, the background is blurred and the shot highlights the woman.\" data-mce-fragment=\"1\" data-mce-src=\"https:\/\/images.samsung.com\/is\/image\/samsung\/p6pim\/ae\/2202\/feature\/ae-feature---531467240?$1204_n_JPG$\"\u003e\u003c\/p\u003e\n\u003cp data-font-size-pc=\"18\" data-font-size-mo=\"12\" class=\"feature-benefit__desc contrast-target\"\u003e \u003cbr\u003e\u003c\/p\u003e\n\u003ch2 data-font-size-pc=\"48\" data-font-size-mo=\"30\" class=\"feature-benefit__title contrast-target\"\u003eAwesome battery, lasts two days\u003c\/h2\u003e\n\u003cdiv class=\"feature-benefit__desc-wrap\"\u003e\n\u003cp data-font-size-pc=\"18\" data-font-size-mo=\"12\" class=\"feature-benefit__desc contrast-target\"\u003eA 5,000mAh (typical) battery for more time streaming, sharing, gaming and more. Quickly revive your Galaxy with up to 25W Super Fast Charging and enable adaptive power saving to enhance the overall battery performance.\u003c\/p\u003e\n\u003cp data-font-size-pc=\"18\" data-font-size-mo=\"12\" class=\"feature-benefit__desc contrast-target\"\u003e\u003cimg alt=\"A Galaxy A53 5G is in between two landscape photos. On the left, the photo shows a beautiful mountain landscape in bright daylight. On the right, the photo shows a man sitting in front of a campfire, pointing to the stars on a dark, night sky. Text in the center reads 2 Days Battery.\" src=\"https:\/\/images.samsung.com\/is\/image\/samsung\/p6pim\/ae\/2202\/feature\/ae-feature-awesome-battery--lasts-two-days--531467283?%24FB_TYPE_A_JPG%24\"\u003e\u003c\/p\u003e\n\u003c\/div\u003e\n\u003cp data-font-size-pc=\"18\" data-font-size-mo=\"12\" class=\"feature-benefit__desc contrast-target\"\u003e \u003cbr\u003e\u003c\/p\u003e\n\u003ch2 data-font-size-pc=\"48\" data-font-size-mo=\"30\" class=\"feature-benefit__title contrast-target\"\u003eNow spill, splash and splatter resistant\u003c\/h2\u003e\n\u003cdiv class=\"feature-benefit__desc-wrap\"\u003e\n\u003cp data-font-size-pc=\"18\" data-font-size-mo=\"12\" class=\"feature-benefit__desc contrast-target\"\u003eRated IP67 for water and dust-resistance, the Galaxy A53 5G stands up to 1.0 meter of freshwater for up to 30 minutes. With additional protection from Gorilla Glass 5, your device is now tougher and less prone to scratches.\u003c\/p\u003e\n\u003cp data-font-size-pc=\"18\" data-font-size-mo=\"12\" class=\"feature-benefit__desc contrast-target\"\u003e\u003cimg alt=\"Galaxy A53 5G in Awesome Blue, seen from the rear with water splashing around it\" src=\"https:\/\/images.samsung.com\/is\/image\/samsung\/p6pim\/ae\/2202\/feature\/ae-feature-now-spill--splash-and-splatter-resistant-531467270\"\u003e\u003c\/p\u003e\n\u003c\/div\u003e\n\u003cp data-font-size-pc=\"18\" data-font-size-mo=\"12\" class=\"feature-benefit__desc contrast-target\"\u003e \u003cbr\u003e\u003c\/p\u003e\n\u003ch2 data-font-size-pc=\"48\" data-font-size-mo=\"30\" class=\"feature-benefit__title contrast-target\"\u003eImmersive sound in the palm of your hand\u003c\/h2\u003e\n\u003cdiv class=\"feature-benefit__desc-wrap\"\u003e\n\u003cp data-font-size-pc=\"18\" data-font-size-mo=\"12\" class=\"feature-benefit__desc contrast-target\"\u003eA spatial experience no longer requires a studio. Immerse yourself in your favorite films, songs and videos with Dolby Atmos enriching each note with incredible detail and clarity.\u003c\/p\u003e\n\u003cp data-font-size-pc=\"18\" data-font-size-mo=\"12\" class=\"feature-benefit__desc contrast-target\"\u003e\u003cimg alt=\"Galaxy A53 5G is laid horizontally and shows sound coming from both ends of the device. On screen, a male artist wearing headphones is singing into a studio microphone in a recording session. The Dolby Atmos logo is shown below.\" src=\"https:\/\/images.samsung.com\/is\/image\/samsung\/p6pim\/ae\/2202\/feature\/ae-feature-immersive-sound-in-the-palm-of-your-hand-531467222?%24FB_TYPE_A_JPG%24\"\u003e\u003c\/p\u003e\n\u003c\/div\u003e\n\u003cp data-font-size-pc=\"18\" data-font-size-mo=\"12\" class=\"feature-benefit__desc contrast-target\"\u003e \u003cbr\u003e\u003c\/p\u003e\n\u003ch2 data-font-size-pc=\"48\" data-font-size-mo=\"30\" class=\"feature-benefit__title contrast-target\"\u003eGame Booster gives you the edge\u003c\/h2\u003e\n\u003cdiv class=\"feature-benefit__desc-wrap\"\u003e\n\u003cp data-font-size-pc=\"18\" data-font-size-mo=\"12\" class=\"feature-benefit__desc contrast-target\"\u003eGo for the win. Game Booster tracks your gaming patterns to optimize your device's battery life, temperature and memory, while blocking background activities and notifications so you won't lose focus.\u003c\/p\u003e\n\u003cp data-font-size-pc=\"18\" data-font-size-mo=\"12\" class=\"feature-benefit__desc contrast-target\"\u003e\u003cimg alt=\"Game Booster\" src=\"https:\/\/images.samsung.com\/is\/image\/samsung\/p6pim\/ae\/2202\/feature\/ae-feature-galaxy-a53-5g-a536-531623120?%24FB_TYPE_A_JPG%24\"\u003e\u003c\/p\u003e\n\u003c\/div\u003e\n\u003cp data-font-size-pc=\"18\" data-font-size-mo=\"12\" class=\"feature-benefit__desc contrast-target\"\u003e \u003cbr\u003e\u003c\/p\u003e\n\u003ch2 data-font-size-pc=\"48\" data-font-size-mo=\"30\" class=\"feature-benefit__title contrast-target\"\u003eProtect what matters to you\u003c\/h2\u003e\n\u003cdiv class=\"feature-benefit__desc-wrap\"\u003e\n\u003cp data-font-size-pc=\"18\" data-font-size-mo=\"12\" class=\"feature-benefit__desc contrast-target\"\u003eBuilt into the phone's hardware and software from the start, Samsung Knox protects your phone from the minute it's turned on. Offering multi-layered security, it defends your most sensitive information from malware and malicious threats.\u003c\/p\u003e\n\u003cp data-font-size-pc=\"18\" data-font-size-mo=\"12\" class=\"feature-benefit__desc contrast-target\"\u003e\u003cimg alt=\"Five layers in the shape of a smartphone is shown stacked on top of each other with space in between. On the very bottom, a black layer shows circuitry and a chip. The top layer shows the Knox logo.\" src=\"https:\/\/images.samsung.com\/is\/image\/samsung\/p6pim\/ae\/2202\/feature\/ae-feature-protect-what-matters-to-you-531467276\"\u003e\u003c\/p\u003e\n\u003c\/div\u003e\n\u003c\/div\u003e\n\u003c\/div\u003e\n\u003c\/div\u003e\n\u003c\/div\u003e\n\u003c\/div\u003e\n\u003c\/div\u003e\n\u003c\/div\u003e\n\u003c\/div\u003e\n\u003ch2 data-font-size-pc=\"48\" data-font-size-mo=\"30\" class=\"feature-benefit__title contrast-target\"\u003e\n\u003cspan style=\"text-decoration: underline;\" data-mce-style=\"text-decoration: underline;\"\u003e\u003cstrong\u003e\u003c\/strong\u003e\u003c\/span\u003e\u003cbr\u003e\n\u003c\/h2\u003e\n\u003ch2 data-font-size-pc=\"48\" data-font-size-mo=\"30\" class=\"feature-benefit__title contrast-target\"\u003eSimply touch to unlock\u003c\/h2\u003e\n\u003cdiv class=\"feature-benefit__desc-wrap\"\u003e\n\u003cp data-font-size-pc=\"18\" data-font-size-mo=\"12\" class=\"feature-benefit__desc contrast-target\"\u003eStep right in. With the built-in on-screen fingerprint sensor, you can instantly log in to your apps and websites without compromising on security.\u003c\/p\u003e\n\u003cp data-font-size-pc=\"18\" data-font-size-mo=\"12\" class=\"feature-benefit__desc contrast-target\"\u003e\u003cimg alt=\"Galaxy A53 5G seen from the front with nothing but the on-screen fingerprint sensor onscreen.\" src=\"https:\/\/images.samsung.com\/is\/image\/samsung\/p6pim\/ae\/2202\/feature\/ae-feature-simply-touch-to-unlock-531467266\"\u003e\u003c\/p\u003e\n\u003ch2 data-font-size-pc=\"48\" data-font-size-mo=\"30\" class=\"feature-benefit__title contrast-target\"\u003eYour privacy protected\u003c\/h2\u003e\n\u003cdiv class=\"feature-benefit__desc-wrap\"\u003e\n\u003cp data-font-size-pc=\"18\" data-font-size-mo=\"12\" class=\"feature-benefit__desc contrast-target\"\u003eKeep your personal photos, videos, files, apps and data safe inside Secure Folder with the defense-grade Samsung Knox security platform, which protects your information from any malicious attacks. Add your password or fingerprint so that only you can access your data.\u003c\/p\u003e\n\u003cp data-font-size-pc=\"18\" data-font-size-mo=\"12\" class=\"feature-benefit__desc contrast-target\"\u003e\u003cimg alt=\"Galaxy A53 5G seen from the front, displaying the apps inside Secure Folder, including Gallery, Contacts, My Files and more. Each app icon has a small Secure Folder icon attached at the bottom right. Above the smartphone is a larger Secure Folder icon.\" src=\"https:\/\/images.samsung.com\/is\/image\/samsung\/p6pim\/ae\/2202\/feature\/ae-feature-your-privacy-protected-531467234\"\u003e\u003c\/p\u003e\n\u003c\/div\u003e\n\u003cp data-font-size-pc=\"18\" data-font-size-mo=\"12\" class=\"feature-benefit__desc contrast-target\"\u003e \u003cbr\u003e\u003c\/p\u003e\n\u003ch2 data-font-size-pc=\"48\" data-font-size-mo=\"30\" class=\"feature-benefit__title contrast-target\"\u003eYour Galaxy. Your Way\u003c\/h2\u003e\n\u003cdiv class=\"feature-benefit__desc-wrap\"\u003e\n\u003cp data-font-size-pc=\"18\" data-font-size-mo=\"12\" class=\"feature-benefit__desc contrast-target\"\u003eOwn something truly yours. Customize your Galaxy with One UI 4 and give your phone an edgy look to match your vibes. Create a bespoke tool that assists your tasks seamlessly and makes your favorite features readily accessible.\u003c\/p\u003e\n\u003cp data-font-size-pc=\"18\" data-font-size-mo=\"12\" class=\"feature-benefit__desc contrast-target\"\u003e\u003cimg alt=\"Five different Galaxy A53 5G screens showing a customized set of colors and look using One UI 4. From left to right, the screens show: the Wallpaper and style menu on settings, a text message conversation with custom pink and burgundy colored text bubbles, a customized Home Screen, a customized Quick Settings menu, and a customized Stopwatch screen.\" src=\"https:\/\/images.samsung.com\/is\/image\/samsung\/p6pim\/ae\/2202\/feature\/ae-feature-your-galaxy--your-way-531467211?%24FB_TYPE_A_JPG%24\"\u003e\u003c\/p\u003e\n\u003ch2 data-font-size-pc=\"18\" data-font-size-mo=\"12\" class=\"feature-benefit__desc contrast-target\"\u003eConnected hear. Connected there\u003c\/h2\u003e\n\u003cdiv class=\"feature-benefit feature-beneift--padding-top-normal feature-beneift--padding-bottom-normal bg-white s-img-align-left s-text-align-mo-center\"\u003e\n\u003cdiv class=\"feature-benefit__text-wrap\"\u003e\n\u003cdiv class=\"feature-benefit__text\"\u003e\n\u003ch2 data-font-size-pc=\"48\" data-font-size-mo=\"30\" class=\"feature-benefit__title contrast-target\"\u003eEffortlessly attentive\u003c\/h2\u003e\n\u003cp data-font-size-pc=\"18\" data-font-size-mo=\"12\" class=\"feature-benefit__desc contrast-target\"\u003eBuds Auto Switching leads your ears to what you should be focusing on. When you're watching a movie on your tablet, an incoming call to your phone will be transferred seamlessly for you to pick up. Hang up and you're right back where you left off.\u003c\/p\u003e\n\u003cp data-font-size-pc=\"18\" data-font-size-mo=\"12\" class=\"feature-benefit__desc contrast-target\"\u003e\u003cspan\u003e*Auto Switch feature only available on Galaxy smartphones and tablets with One UI 3.1 or later. Certain devices and applications may not support Auto Switch.\u003c\/span\u003e\u003cbr\u003e\u003cspan\u003e**Galaxy devices must be logged in to the same Samsung Account to enable Auto Switch.\u003c\/span\u003e\u003cbr\u003e\u003cspan\u003e***Buds Pro and Galaxy Tab S7 sold separately\u003c\/span\u003e\u003c\/p\u003e\n\u003ch2 data-font-size-pc=\"18\" data-font-size-mo=\"12\" class=\"feature-benefit__desc contrast-target\"\u003e\n\u003cspan\u003e\u003cimg alt=\"Three products are lined up from left to right: Galaxy A53 5G, Buds2 with the case lid opened and a Galaxy tablet. An incoming call from Christina Adams is shown on the smartphone screen while the tablet shows scuba diving-related content being played. On the top of both screens of the smartphone and the tablet, a bubble has popped up to notify of the call and that the user could take the call with the Buds2.\" src=\"https:\/\/images.samsung.com\/is\/image\/samsung\/p6pim\/ae\/2202\/feature\/ae-feature-effortlessly-attentive-531467246\"\u003e\u003c\/span\u003eListen with your Buds Together\u003c\/h2\u003e\n\u003c\/div\u003e\n\u003c\/div\u003e\n\u003c\/div\u003e\n\u003cdiv class=\"feature-benefit__desc-wrap\"\u003e\n\u003cp data-font-size-pc=\"18\" data-font-size-mo=\"12\" class=\"feature-benefit__desc contrast-target\"\u003eTake over the sidewalk with your best friend. Buds Together gives you the simple yet unbeatable experience of listening to songs together on-the-go.\u003c\/p\u003e\n\u003cp data-font-size-pc=\"18\" data-font-size-mo=\"12\" class=\"feature-benefit__desc contrast-target\"\u003e\u003cspan\u003e*Buds Pro sold separately.\u003c\/span\u003e\u003c\/p\u003e\n\u003cp data-font-size-pc=\"18\" data-font-size-mo=\"12\" class=\"feature-benefit__desc contrast-target\"\u003e\u003cspan\u003e\u003cimg alt=\"Two female friends, both wearing Buds Pro, are lying down on the grass on a sunny day, blowing bubbles with bubble gum. A smartphone laid down nearby shows a song being played, illustrating that both friends are listening to the song together with their Buds products.\" src=\"https:\/\/images.samsung.com\/is\/image\/samsung\/p6pim\/ae\/2202\/feature\/ae-feature-listen-with-your-buds-together-531467260\"\u003e\u003c\/span\u003e\u003c\/p\u003e\n\u003c\/div\u003e\n\u003cp data-font-size-pc=\"18\" data-font-size-mo=\"12\" class=\"feature-benefit__desc contrast-target\"\u003e \u003cbr\u003e\u003c\/p\u003e\n\u003ch2 data-font-size-pc=\"48\" data-font-size-mo=\"30\" class=\"feature-benefit__title contrast-target\"\u003eYour apps on Galaxy A53 5G, now on PC\u003c\/h2\u003e\n\u003cdiv class=\"feature-benefit__desc-wrap\"\u003e\n\u003cp data-font-size-pc=\"18\" data-font-size-mo=\"12\" class=\"feature-benefit__desc contrast-target\"\u003eWith Link to Windows, access your phone messages, notifications and other mobile apps directly on your PC.\u003c\/p\u003e\n\u003cp data-font-size-pc=\"18\" data-font-size-mo=\"12\" class=\"feature-benefit__desc contrast-target\"\u003e\u003cimg alt=\"A Galaxy laptop and Galaxy smartphone are shown side by side. The laptop shows the Apps window, which displays all the apps downloaded on the smartphone. The Albums app is also opened and shows that the user could access the app just as he or she would on the smartphone. On the smartphone screen, the Home Screen is shown, displaying some of the apps that are also shown on the laptop screen.\" src=\"https:\/\/images.samsung.com\/is\/image\/samsung\/p6pim\/ae\/2202\/feature\/ae-feature-your-apps-on-galaxy-a53-5g--now-on-pc-531467287\"\u003e\u003c\/p\u003e\n\u003c\/div\u003e\n\u003cp data-font-size-pc=\"18\" data-font-size-mo=\"12\" class=\"feature-benefit__desc contrast-target\"\u003e \u003c\/p\u003e\n\u003c\/div\u003e\n\u003c\/div\u003e\n\u003c\/div\u003e\n\u003c\/div\u003e\n\u003c\/div\u003e"}
Samsung Galaxy A53 5G 8GB 256GB Dual SIM
Product Description
1 Year AXIOM / SAMSUNG Warranty
TRA Approved
Next Day Delivery
Android
Display
6.5-inch 2400 x 1080 FHD+, Super AMOLED
Infinity-O Display
Dimension 
159.6 x 74.8 x 8.1 mm / 189 gm
Camera
Rear:
Resolution (Multiple) 64.0 MP + 12.0 MP + 5.0 MP + 5.0 MP
Rear Camera - F Number (Multiple) F1.8 , F2.2 , F2.4 , F2.4
Main Camera - Auto Focus Yes
Rear Camera - OIS - Yes
Rear Camera Zoom - Digital Zoom up to 10x
Front:
Front Camera - Resolution - 32.0 MP
Front Camera - F Number - F2.2
Front Camera - Auto Focus - No
Front Camera - OIS - No
Main Camera - Flash - Yes
Front Camera - Flash - No
Video Recording Resolution - UHD 4K (3840 x 2160)@30fps
Slow Motion - 240fps @HD
AP
Octa Core 2.4GHz, 2GHz
Memory
8GB RAM , 256GB Internal Storage, External memory - MicroSD (Up to 1TB)
Network
5G, 4G, WiFi
SIM Card
Dual SIM - Nano SIM (SIM 1 + Hybrid (SIM or MicroSD)

Battery
5,000 mAh, 25W Fast Charging
Biometric Authentications
Fingerprint sensor
Fast. To the point of innovation
With Samsung Galaxy A53 5G, your world becomes a Galaxy. Hyperfast connection means seamless streaming and sharing with your friends and family.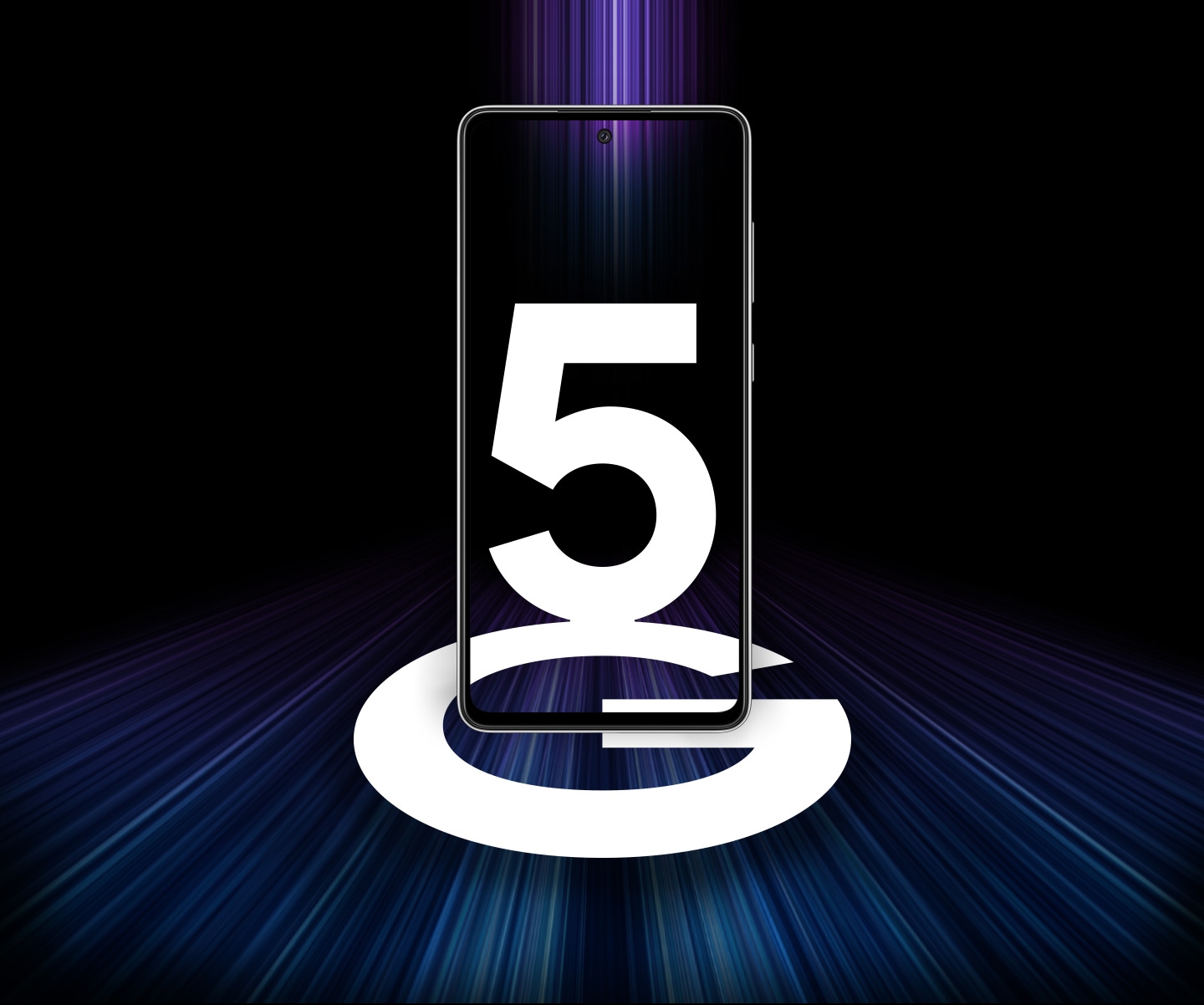 Pure processing power
Time to get to work. Powered with a 5nm Octa-core processor, your Samsung Galaxy A53 5G is built to handle heavy-duty multitasking. RAM Plus reads your usage patterns and provides extra virtual RAM for an additional boost.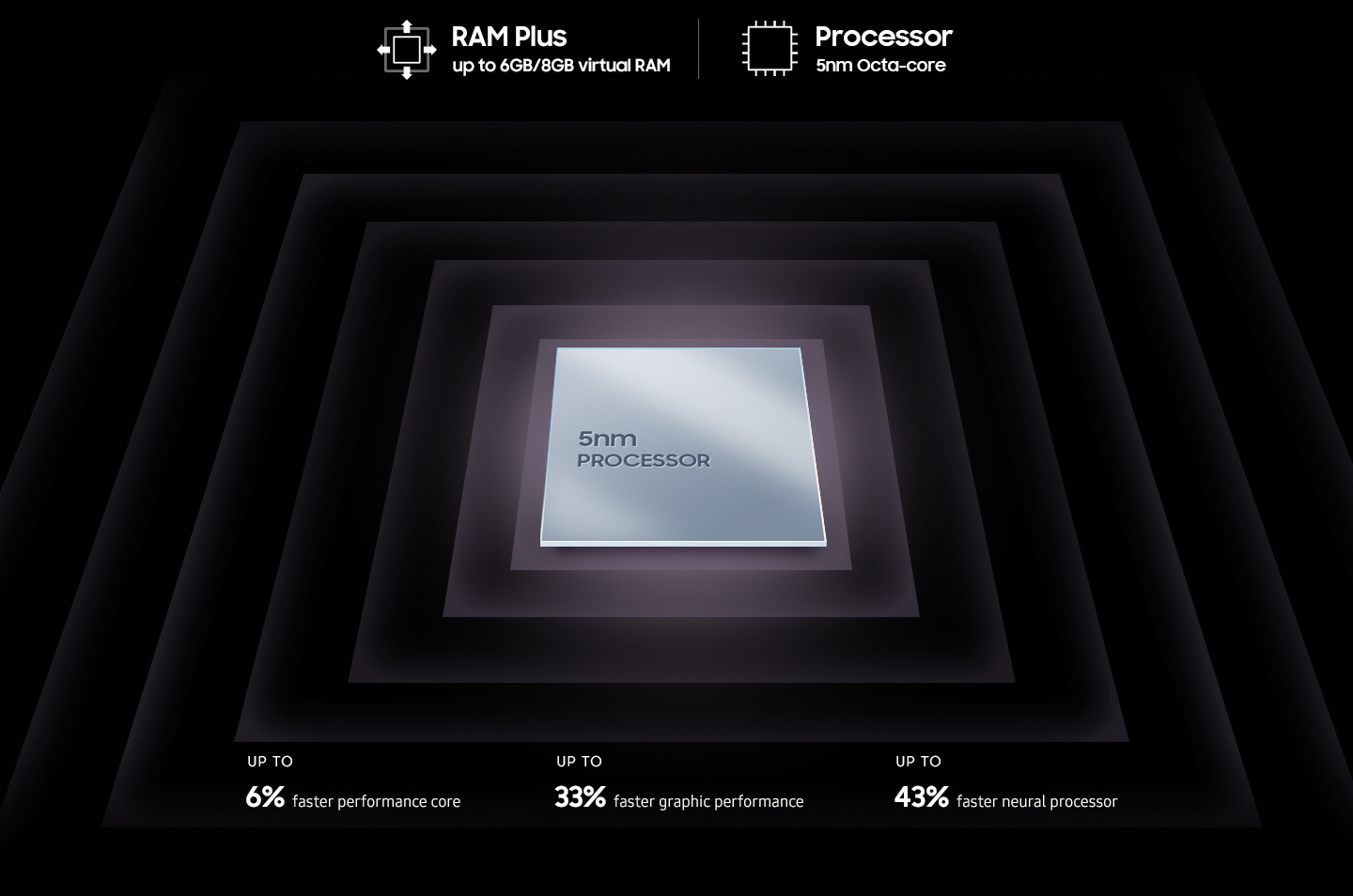 Hold on to your memories
It's a whole lot with your Samsung Galaxy A53 5G's 256GB of internal storage plus support for a microSD card up to 1TB, you've got room for all your precious moments.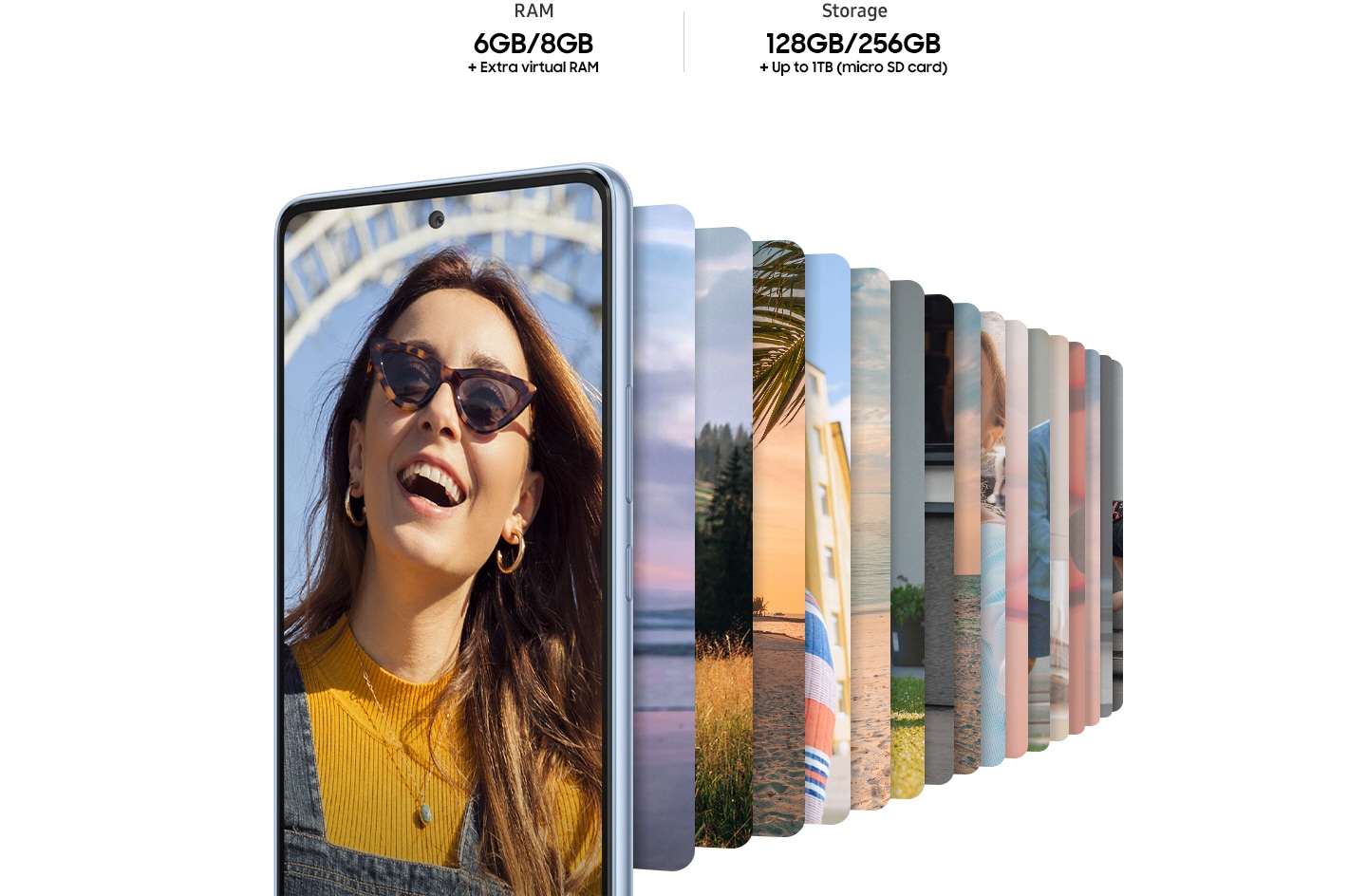 Simplicity takes the crown
The Samsung Galaxy A53 5G is designed to stand out. With the Ambient Edge blending the camera with the body seamlessly, your Galaxy is entirely beautiful and fully functional with added battery capacity inside a slimmer, matte frame.
A cinematic view of your world
Feast your eyes on vibrant details with the FHD+ Super AMOLED display of your Samsung Galaxy A53 5G. With the expansive 6.5-inch Infinity-O Display, enjoy vivid outdoor visibility up to 800 nits while reducing blue light with the Eye Comfort Shield.
Awesome screen, super smooth scrolling
Watch anything on your Samsung Galaxy A53 5G's 120Hz Super AMOLED display to see how silky smooth is now a viewing experience with less blur, more details, and vivid contrast.
Awesome camera, always sharp and steady
The multi-lens camera on the Samsung Galaxy A53 5G takes photos to the next level. Get crisper, clearer shots with the 64MP OIS Camera, expand your viewing angle with the Ultra Wide Camera, customize focus with the Depth Camera and get closer to details with the Macro Camera.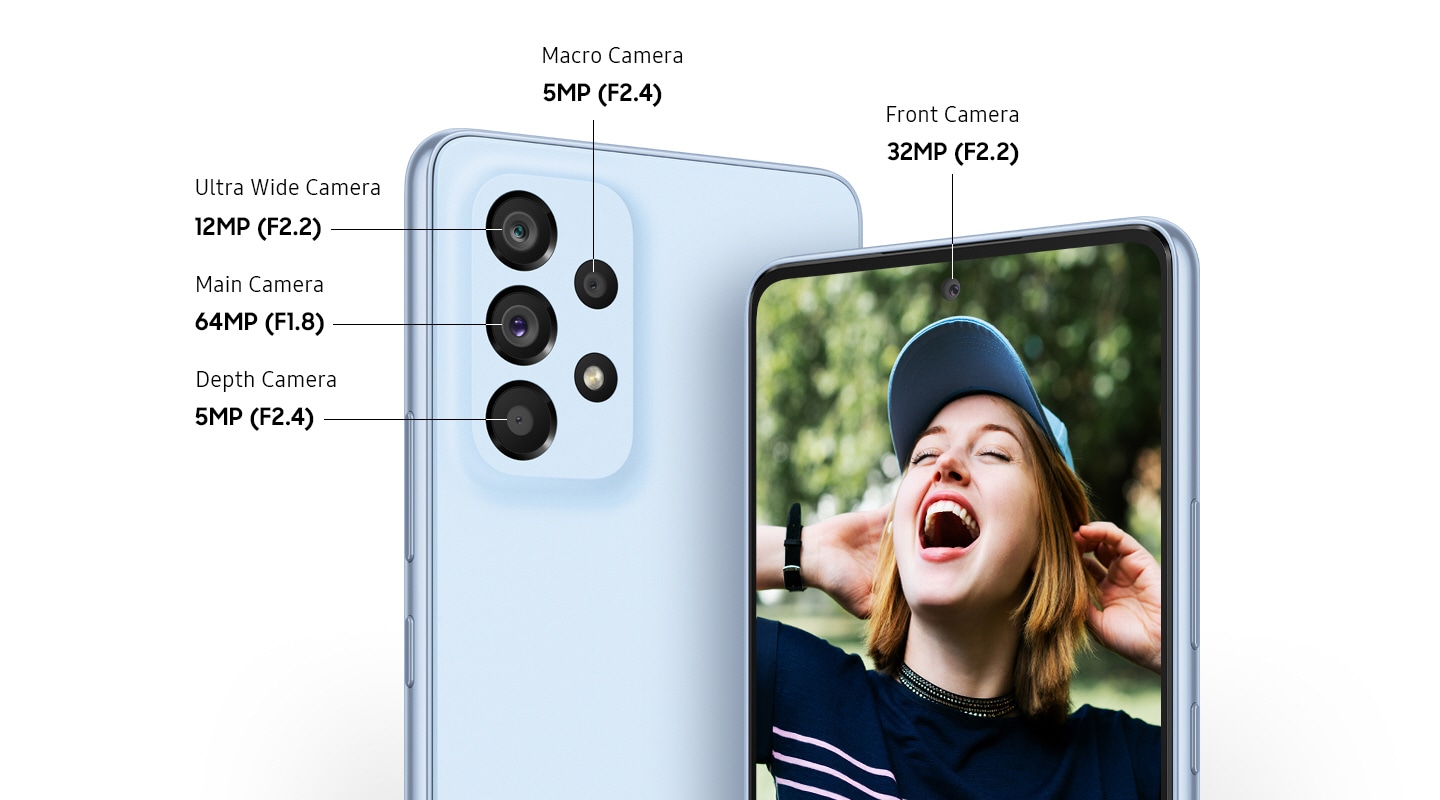 Shoot stable video like a pro
Capture your world on-the-go. With OIS, your Samsung Galaxy Galaxy A53 5G records your videos more smoothly and captures finer details even in low light.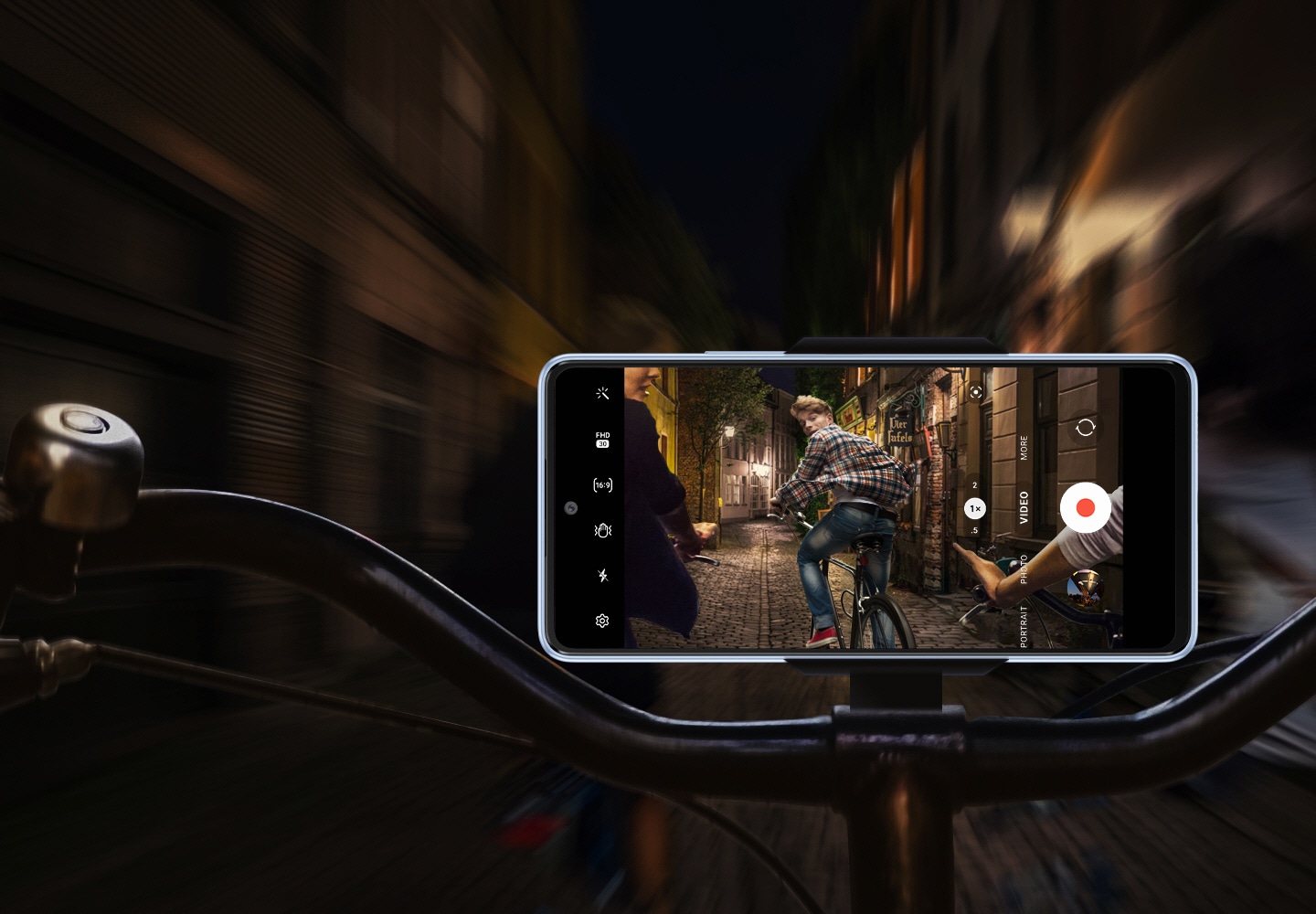 Better shots with AI Image Enhancer
Photo remaster's powerful AI automatically enhances your photos so you can upgrade your images right away.

Fun times with Fun mode
Capture your funniest moments with new Snapchat Lenses updated regularly on Fun mode. Browse and try on your favorites, capture your best look and share them with your friends.
Capture your awesomeness
With bokeh effects and dual lenses for a depth camera powered by AI, you can capture the fine attributes that make every face unique. Blur out the background and focus on the details that brings the life out from inside the frame. 
Awesome battery, lasts two days
A 5,000mAh (typical) battery for more time streaming, sharing, gaming and more. Quickly revive your Galaxy with up to 25W Super Fast Charging and enable adaptive power saving to enhance the overall battery performance.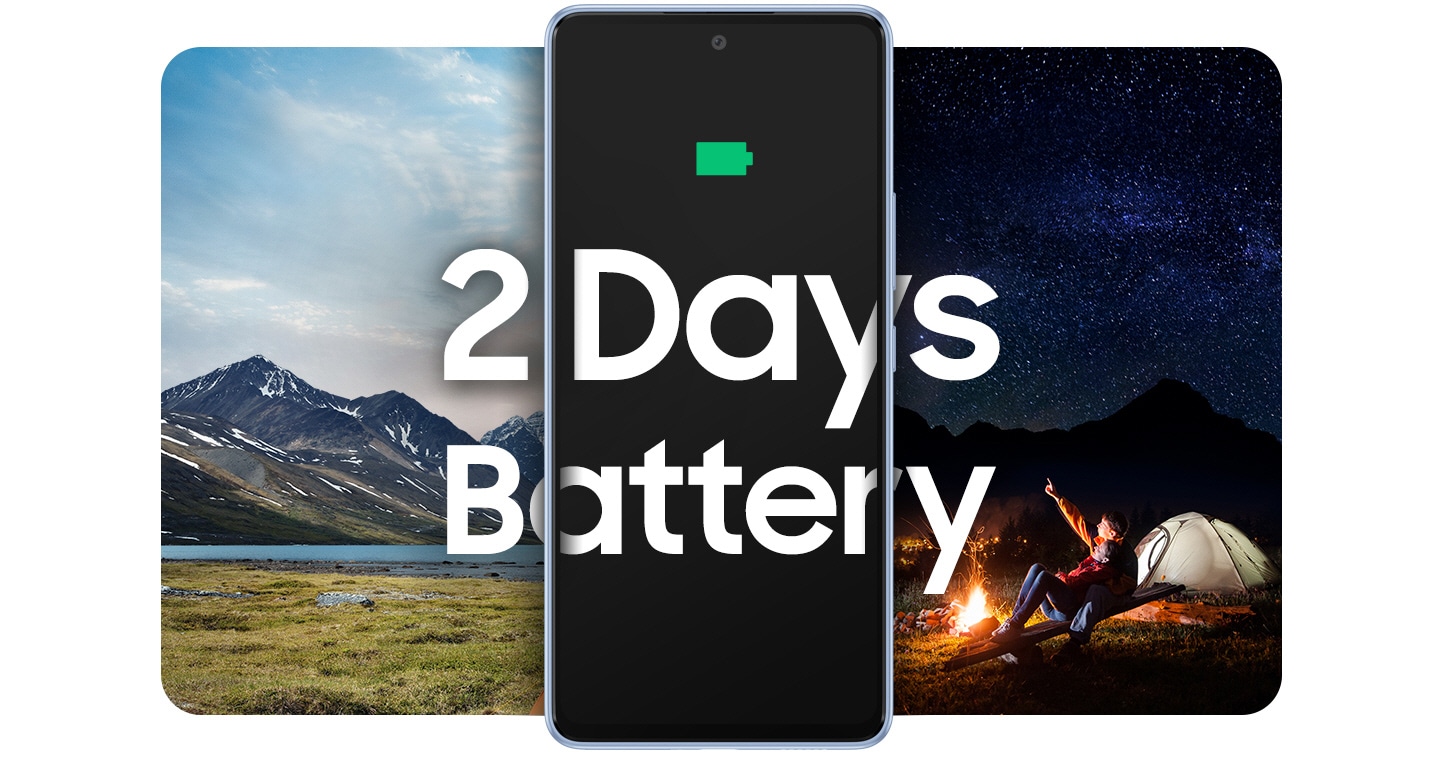 Now spill, splash and splatter resistant
Rated IP67 for water and dust-resistance, the Galaxy A53 5G stands up to 1.0 meter of freshwater for up to 30 minutes. With additional protection from Gorilla Glass 5, your device is now tougher and less prone to scratches.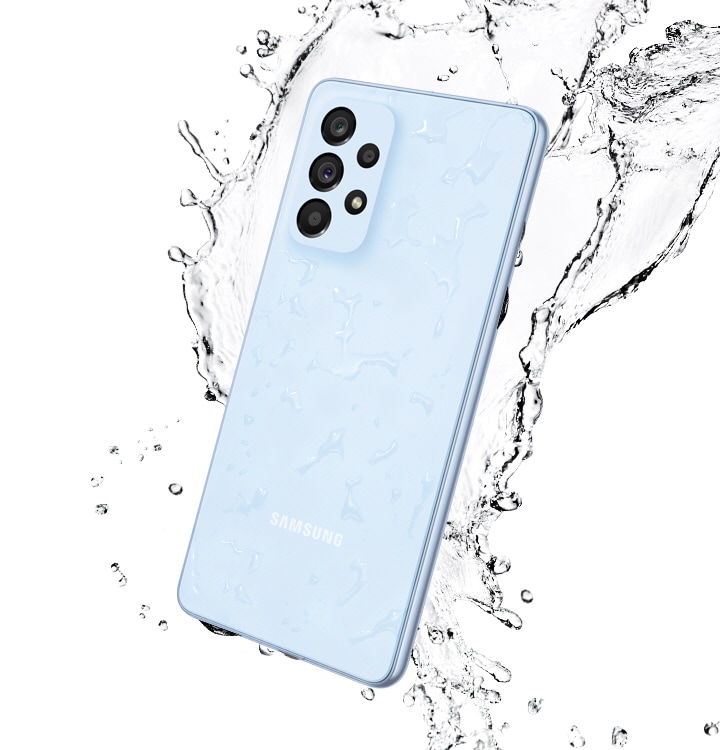 Immersive sound in the palm of your hand
A spatial experience no longer requires a studio. Immerse yourself in your favorite films, songs and videos with Dolby Atmos enriching each note with incredible detail and clarity.
Game Booster gives you the edge
Go for the win. Game Booster tracks your gaming patterns to optimize your device's battery life, temperature and memory, while blocking background activities and notifications so you won't lose focus.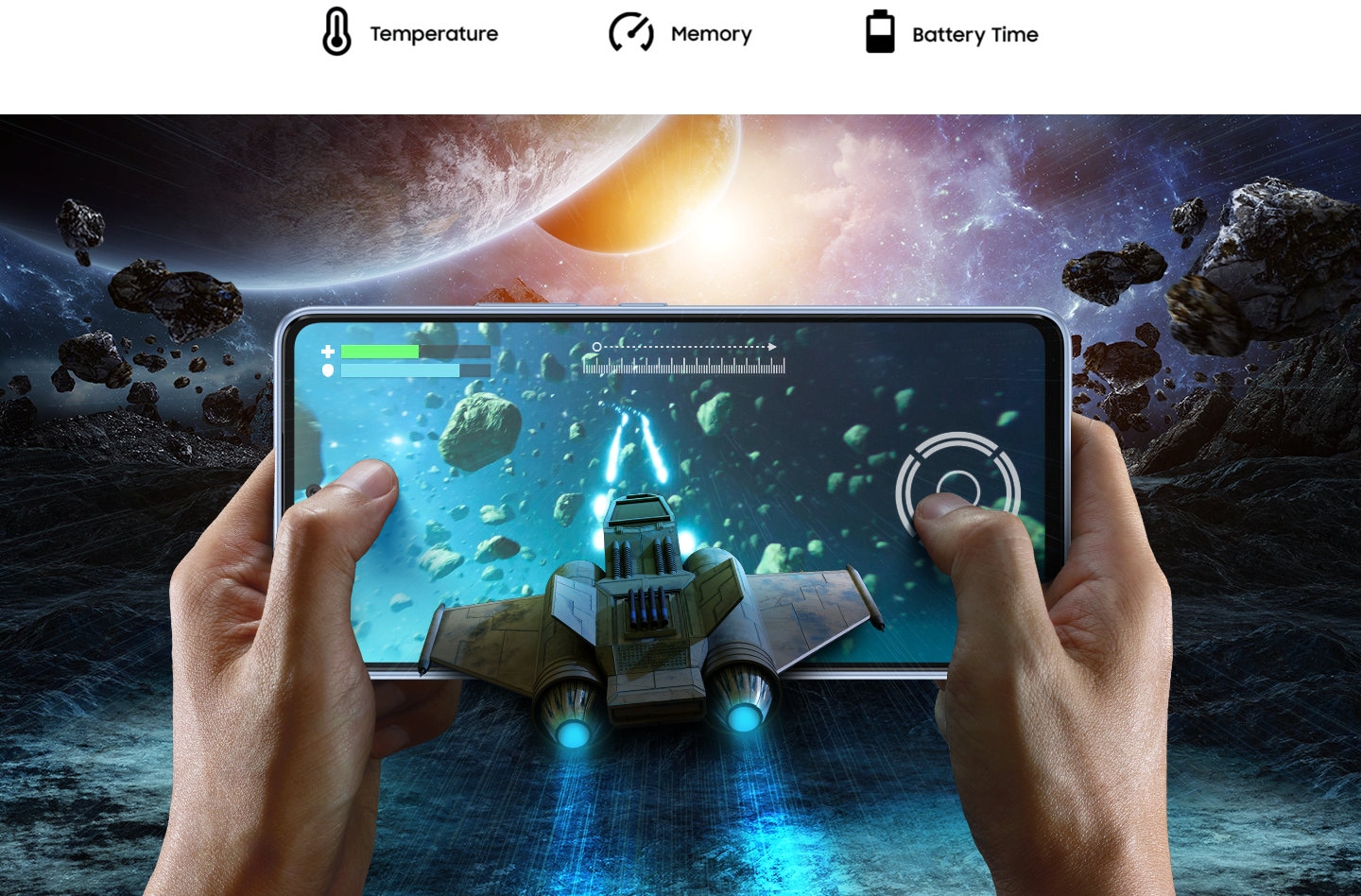 Protect what matters to you
Built into the phone's hardware and software from the start, Samsung Knox protects your phone from the minute it's turned on. Offering multi-layered security, it defends your most sensitive information from malware and malicious threats.
Simply touch to unlock
Step right in. With the built-in on-screen fingerprint sensor, you can instantly log in to your apps and websites without compromising on security.
Your privacy protected
Keep your personal photos, videos, files, apps and data safe inside Secure Folder with the defense-grade Samsung Knox security platform, which protects your information from any malicious attacks. Add your password or fingerprint so that only you can access your data.
Your Galaxy. Your Way
Own something truly yours. Customize your Galaxy with One UI 4 and give your phone an edgy look to match your vibes. Create a bespoke tool that assists your tasks seamlessly and makes your favorite features readily accessible.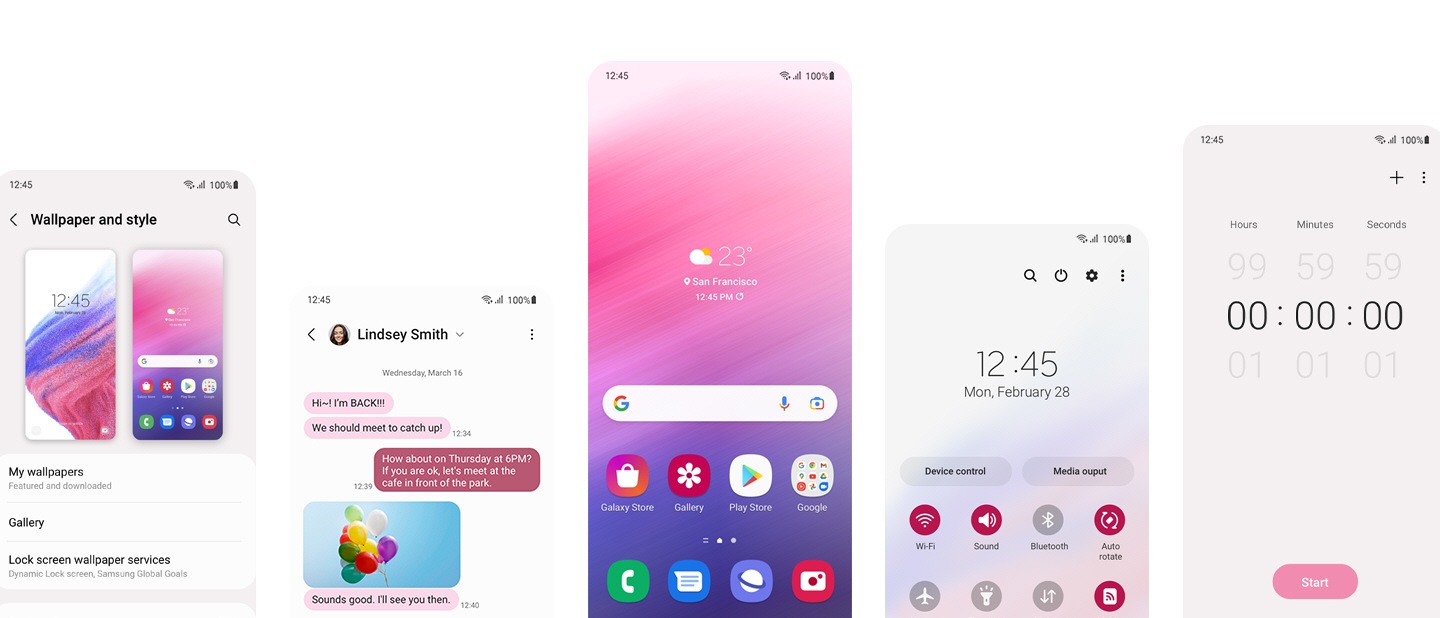 Connected hear. Connected there
Effortlessly attentive
Buds Auto Switching leads your ears to what you should be focusing on. When you're watching a movie on your tablet, an incoming call to your phone will be transferred seamlessly for you to pick up. Hang up and you're right back where you left off.
*Auto Switch feature only available on Galaxy smartphones and tablets with One UI 3.1 or later. Certain devices and applications may not support Auto Switch.
**Galaxy devices must be logged in to the same Samsung Account to enable Auto Switch.
***Buds Pro and Galaxy Tab S7 sold separately
Listen with your Buds Together
Take over the sidewalk with your best friend. Buds Together gives you the simple yet unbeatable experience of listening to songs together on-the-go.
*Buds Pro sold separately.
Your apps on Galaxy A53 5G, now on PC
With Link to Windows, access your phone messages, notifications and other mobile apps directly on your PC.